HANDS-ON DUMPLING DELIGHTS
Food Tour + Cooking Class

For Adults and Children

3 Hour Culinary Experience
Are you obsessed with dumplings? On this food tour + cooking class, you'll get off the beaten path to sample regional varieties of dumplings, from streetside stalls frying up potstickers to mom-and-pop shops serving boiled jiaozi from China's frigid northeast. After eating your fill, you'll learn how to make a dim sum specialty from a Chinese chef.

While sampling fried, steamed and boiled dumplings (and a few extra surprises), you'll make your way through the leafy former French Concession to admire art deco architecture and see how the Shanghainese live. You'll make intricate Cantonese steamed shrimp dim sum, and leave with a detailed recipe so you can impress your friends and family with your newfound dumpling making skills after your return home.

Price:

Adults: US$90 / RMB 595 (min 8 adults tickets for a private tour)
Kids (Ages 6-12): US$70 / RMB 450
Tiny Tots (Ages 0-5): Free (if tasting not required. If the tiny tot would like a tasting, please purchase a Kids' ticket).

On public tours, each child must be accompanied by an adult.

Duration:

3 hours

When:

10am. For private tours or additional dates, please contact us.

Due to Covid-19 and travel restrictions, we are offering limited public tours. However, we offer private tours every day of the week, based on guide availability.

To inquire about a private tour, please add us on WeChat (ID: UnTour), contact us at this link , or email info@untourfoodtours.com with your requested dates and tour! or via WeChat at UnTour with your requested dates and tour!


Where:

Near Jiashan Rd Metro. The exact tour meeting point will be emailed upon booking.

Max Group Size:

10 guests + 1 guide. Please contact us for large groups.

Transport:

Walking (2.0 km or 1.2 miles)

Inclusions:

8-9 Tastings • Chinese Beer, Soft Drinks & Bottled Water • 1-Hour Cooking Class • Local Chef • Welcome Packet • Awesome Bilingual Tour Guide!

How To Book:

Click here to book your tour.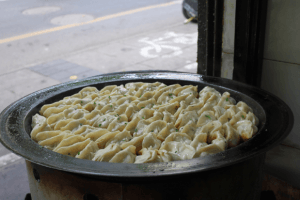 WATCH POTSTICKERS FRIED STREETSIDE
Observe expert dumpling makers handwrap guotie, then wok-fry them to a delicious golden crisp. Learn how to eat them without scalding your tongue!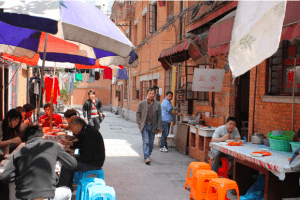 EXPLORE SHANGHAI'S HIDDEN LANEWAYS
Stroll through the lilong alleyways and see how the Shanghainese live in the leafy former French Concession.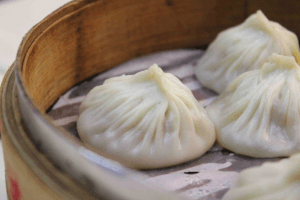 DISCOVER XIAOLONGBAO'S SOUPY SECRETS
Find out how chefs get the delicious broth inside soup dumplings, the region's most famous dish.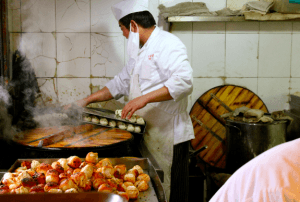 LEARN THE HISTORY BEHIND THE DISHES
The original Chinese dumplings have over 2,000 years of history – and you won't believe who invented them! Chinese generals, doctors and entrepreneurs have all perfected their own version of dumplings over the millennia.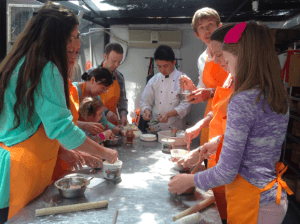 MAKE YOUR OWN DUMPLINGS
After two hours of exploring the regional differences between dumplings, you'll learn to create har gow, shrimp dumplings made famous by dim sum, completely from scratch. Nothing tastes better than the fruit of your own labor.
*Each tour has 3-4 rotating seated stops offering a tasting of 8-9 dishes.
Breakfast in China is best enjoyed on the street, still piping hot from the wok or steamer. The only difficulty is deciphering a Chinese menu. UnTour....simplifies the process by doing the ordering for you. The Dumplings Delights tours spans the breadth of China, from cabbage-filled jiao zi eaten in wintry northeastern China...and, of course, Shanghai's famous xiao long bao (soup dumplings).
This was the highlight of our trip to Shanghai! We sampled dumplings at Shanghai's best spots with the delightful and highly knowledgeable Jamie! All of us loved walking through the neighborhoods and eating where the locals eat. And the dumplings were DIVINE. We finished our tour at a cooking school where we all made our own dumplings from scratch. So fun! Don't miss this tour - or any tour with Untour Shanghai.