BEYOND BULGOGI: SHANGHAI'S KOREATOWN TOUR
12+ Tastings at 4-5 Seated Stops

Banchan Shop

3 Hour Experience
Who needs a plane ticket when a world of delicious Korean food and culture is hidden just a few metro stops away? You can go beyond bulgogi on the first ever food tour of Shanghai's Koreatown – with a local Korean guide to help transport you to the heart of Seoul.
You'll weave your way through the K-Town neighborhood, seeing Korean Street, the original K-Town building, the more modern side of the area, and pocha (night market tents), and dive into a range of restaurants, bars and shops. Explore some of the best-kept secrets and most enticing places to eat and drink in this K-Town enclave – there's so much more than bulgogi, bibimbap, and Korean fried chicken waiting to be discovered!

Price:

Adults: US$102 / RMB 650 (min 8 adult tickets for a private tour)
Kids (Ages 6-12): US$76.5 / RMB 490
Tiny Tots (Ages 0-5): Free (if tasting not required. If the tiny tot would like a tasting, please purchase a Kids' ticket).

On public tours, each child must be accompanied by an adult.

Duration:

3 hours

When:

Fri-Sat: 3:30pm Start Time
Mon-Thurs: 6:30pm Start Time

Due to Covid-19 and travel restrictions, we are offering limited public tours. However, we offer private tours every day of the week, based on guide availability.

To inquire about a private tour, please add us on WeChat (ID: UnTour), contact us at this link , or email info@untourfoodtours.com with your requested dates and tour! or via WeChat at UnTour with your requested dates and tour!


Where:

Shanghai's Koreatown – near Jingting Tiandi and Seoul Plaza. The exact tour meeting point will be emailed upon booking.

Max Public Tour Group Size:

8 guests + 1 guide. Please contact us for large groups.

Transport:

Walking (1.6 km or 1 mile). Please note at one stop we will sit on the floor in a traditional Korean restaurant.

Inclusions:

12+ Tastings (not including Banchan!) • Curated Koreatown Visit • Local Beer, Korean Liquor, Soft Drinks & Bottled Water • Welcome Packet • Awesome Bilingual Korean Tour Guide!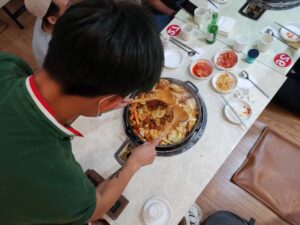 TAKE A TRIP WITHOUT LEAVING SHANGHAI
You'll be transported to the streets of Seoul in this expat enclave. Shop in a local banchan shop run by a husband-and-wife team and taste authentic Korean dishes you've never heard of before. Your Korean guide will show you the ropes of how to make the most of K-Town - it's only a metro ride away!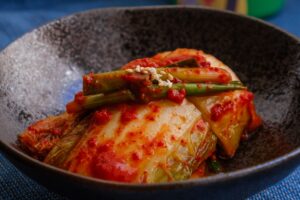 EAT YOUR WAY THROUGH K-TOWN
Get the lay of the land of Shanghai's HUGE Koreatown. The variety of malls, restaurants, street food stalls, and tents that make up the culinary world of K-Town can be overwhelming. With a local guide showing you the ropes and our handy trilingual welcome packet, you'll be back for more in no time!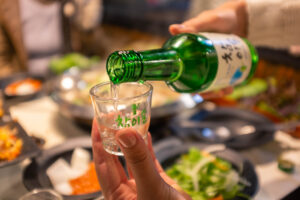 VISIT A LOCAL KOREAN WATERING HOLE
Learn how the locals drink, and pick up a few new drinking games. You'll also taste the lasting culinary influences that American soldiers left on the Korean peninsula, learn about the darker side of K-Pop, and try a fermented rice wine that just might become your new favorite tipple.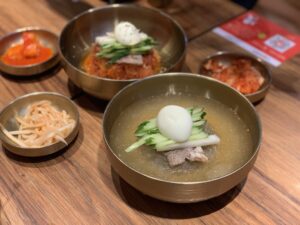 DIVE DEEP INTO AUTHENTIC KOREAN CUISINE
Korean food is so much more than bibimbap, fried chicken, and bulgogi. Uncover authentic specialty dishes, drinks, and traditions from our Korean guides.
*Each tour has 4-5 rotating seated stops offering a tasting of 12+ dishes.