Peking Duck For Every Budget
Let's be real: Peking Duck is a must on any trip/visit/stay/life in the capital city. Sometimes you need a quick fix and you go cheap. Sometimes your rich aunt is visiting and the budget doesn't matter. Sometimes you just treat yourself. Whatever the situation, we've got you covered.
Relatively Cheap Peking Duck – Zi Guang Yuan 紫光园
Zi Guang Yuan, one of the most famous halal restaurant in Beijing, wins locals' hearts by using fresh quality ingredients at a family-friendly price. A whole roast duck comes in at just 98 RMB here and can feed a family of 4 (or maybe 2 really hungry drunkards). The duck comes withspring onions, cucumber slices, pancakes, and traditional soybean paste. To really get the feel-good penny pinching vibes, definitely take the carcass home to make a soup for an extra 16 RMB.
Address: 2 Dongdaqiao Lu, Chaoyang District. 朝阳区东大桥路2号. Hours: 10:30am-10pm. Line 6 – Dongdaqiao.
Mid-Range Peking Duck – Siji Minfu 四季民福烤鸭店
Does anything say "I just had an extremely Beijing day" more than eating Peking duck after touring the forbidden city? Make it happen at the Siji Minfu branch that is located just one block east of the forbidden city. The famous duck restaurant has been on top of many best of lists for good reason. The whole duck is priced at 228 RMB, but both pancakes and condiments are counted as extras, and will run you at least another 11 RMB.
The side dishes and sauces include cucumber slices, spring onions, hawthorn sticks, pickles, fermented vegetables, sugar and two sauces: traditional soybean sauce and garlic paste. It is carved up in front of you into 108 pieces, and they'll also separate out the skin and meat. The skin is crunchy and crisp with full of duck fat, so do it justice by dipping it in sugar, creating the quintessential melt-in-your-mouth effect. Be aware of the long wait here, as it's extremely popular with both locals and visitors.
Address: 1/F, Donghua Restaurant, No.32 Dengshikou West Street, Dongcheng District. 灯市口西街31号东华饭店一楼. Line 2 – Hepingmen. +86 10 6513 5141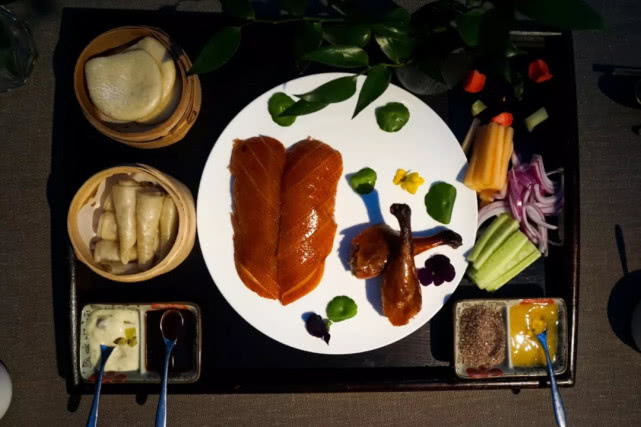 Fancy Peking Duck – Wutong Plus
Wutong Plus is one of the high-end restaurants in the Workers' Stadium. They take a contemporary twist on traditional Beijing cuisine– so if you are looking for the classic duck situation, look elsewhere.
Their roasted duck is priced at 398 RMB plus 10% service fee. They use only 20-day-old baby duck usually less than 3 lbs, stuffed with rice, porcini mushrooms, and black truffles, soaked up in the duck fat before roasting in the traditional oven. The duck is also served with pancakes and side dishes with some creative sauces, including kiwi with mustard, passionfruit, coffee, sugar, and traditional soybean paste.
Address: 3/F, Inside the east gate of Workers' Stadium, Chaoyang District 梧桐PLUS: 朝阳区工人体育场东门辅路向南150米三楼 (小东门内). Line 10 -Tuanjiehu OR Line 6 – Dongdaqiao. +86 01 5352 1539. Hours: 11am-2.30pm, 5-10pm.