To commemorate International Dumpling Day, we've rounded up Shanghai's bao-nciest dumpling shops for you. We hope you'll be celebrating dumpling day on September 26 by digging into your favorite dumplings! If you're in the capital, check out our Top Five Dumpling Shops in Beijing here.
1. Lin Long Fang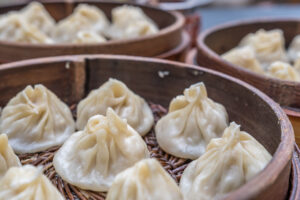 Steamed soup dumplings (xiaolongbao) are, arguably, Shanghai's most famous dish. There are three regional varieties: traditional Shanghainese xiaolongbao and Nanjing-style & Suzhou- style, which are actually called tāngbāo (汤包), literally meaning "soup bun". XLB have heartier wrappers that hold a bigger pork meatball in a sweeter pork soup, while Nanjing's offerings have a more savory broth, a smaller serving of pork, and wrappers so thin they're almost translucent. Suzhou-style are about 1.5 times as big as both Nanjing style and xiaolongbao, with more soup and a thicker wrapper – and a little more sugar inside. No matter which variety you choose, they are all delicious.
The secret of the soup is pork skin, which is simmered with aromatics in water for several hours, then strained out of the stock. The collagen in the stock helps it to solidify as it cools. It's combined with minced pork, wrapped in a dumpling wrapper, and then melts into a liquid when steamed.
To eat without scalding your tongue, bite a small hole in the bao, then slurp out the soup. Remember, the louder it is, the less likely you'll burn your tongue. Once the soup is gone, dunk again in the vinegar and pop the whole thing in your mouth. The easier way to do it – as we like to call it the "Din Tai Fung" way – is to poke a hole in the wrapper with a chopstick and pour the soup into your spoon and slurp it from there. Whatever way works for you!
While you can get xiaolongbao at many places in Shanghai, head to Lin Long Fang for some amazing Shanghai style dumplings. In addition to the traditional pure pork dumplings, they also have pork with hairy crab, pork with salted egg yolk, and a pure hairy crab filling that is as delightful as it is decadent.
338 Zhapu Rd, near Haining Rd. Tel: 159 0085 0387. Hours: 7am-10pm.
2. Dong Tai Xiang 东泰祥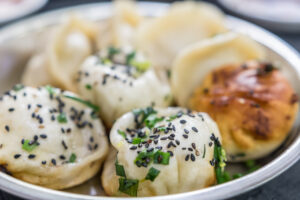 One of Shanghai's most famous specialty dumplings, the shengjianbao (生煎包) is a delicious soup dumpling with a lovely textural contrast. The partially leavened bread satiates your morning carb craving, while the fried dough on the dumpling's lower provides a crispy crunch. Originally appearing in Shanghai tea shops as a part of dim sum, one of our favorites is the shrimp and pork style (虾仁特色生煎包) served at the Dong Tai Xiang (东泰祥).
309 Shaanxi Nan Lu, near Jianguo Xi Lu. Tel: 6437 1268. Hours: 6:30am-8:30pm.
3. Huji Potstickers 胡记锅贴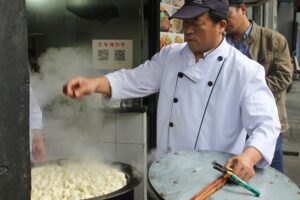 While northern in origin, potstickers are still a must-have on Shanghai's list. The dumpling most likely to stain your shirt, they are another soup-filled pork option with a delicious textural contrast. The name "guo tie" literally translates to "pot stick" – as their fried bottoms stick to the iron pots in which they're cooked. Huji's potstickers are particularly good but arrive early as they often sell out of this breakfast specialty by 11am.
231 Taiyuan Lu, near Jianguo Lu. Tel: 187 1777 7901. Hours: 6am-9pm.
4. Wei Xiang Zhai 味香斋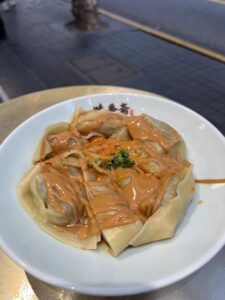 This noodle shop is famous for its sesame noodles, but they recently added sesame wontons (麻酱菜肉大馄饨) to their menu at their newest location in Tianzifang. These wontons are typically filled with shepherd's purse (荠菜) and pork before being drizzled with a sesame, peanut butter, sesame oil, vinegar, soy sauce, and chili oil-sauce. In Shanghai cold wontons are a seasonal dish served in the warm weather months, so grab a platter of these quickly before they go out of season.
220 Taikang Rd, near Sinan Rd. Tel: 185 2170 8833. Hours: 7:30am-8pm.
5. Mei Xin Dim Sum House 美新点心店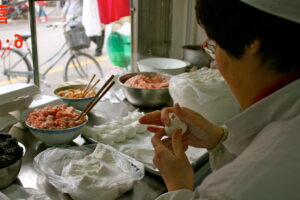 This Shanghainese snack shop sells handmade tangyuan, glutinous rice dumplings stuffed with savory (usually pork) or sweet (black sesame or peanuts). As they resemble a full-moon or a complete circle, tangyuan are eaten during the Winter Solstice and any festival that includes family reunions, including the upcoming Mid-Autumn Festival. They are most popular during Lantern Festival, which is the first full moon of the lunar new year and marks the last day of Spring Festival (Chinese New Year).
Late September marks the return of sweet, black sesame filled yuanxiao on our Shanghai Breakfast Tour. And a nutritional bonus: black sesame is a good source of protein, calcium (1/4 cup of black sesame seeds have more calcium than a glass of milk), magnesium (regulates blood pressure), copper, iron, and zinc. They've been known to lower cholesterol, prevent diabetes, cure anemia, promote digestive health, encourage hair growth, and even help the liver better deal with alcohol and other "poisons".
105 Shaanxi North Rd, near Weihai Rd. Tel: 6247 0030. Hours: 8am-7pm.
Hungry for more dumplings? Book a tour with us in Beijing or Shanghai by going to https://untourfoodtours.com/calendar. We offer dumplings on every single tour we have, because they're the best!