We've curated a collection of limited-time special dishes created just for World Jianbing Day from our favorite chefs around Shanghai. If you hit up all 9 locations (see bingo board at the end), with proof, we'll set you up with our brand new Cook With UnTour Cookbook. It will be an epic day for sure! Don't forget to support your local jianbing vendor as well!
Bird – Dinner 4/30
Roasted Pork neck: served w/ garlic sprouts, northern-style laobing w/ roast chili mojo. ¥88. Dinner only.
Pork belly vindaloo: served w/ kaffir leaf and bahn xeo (Vietnamese wraps) ¥128. Dinner only.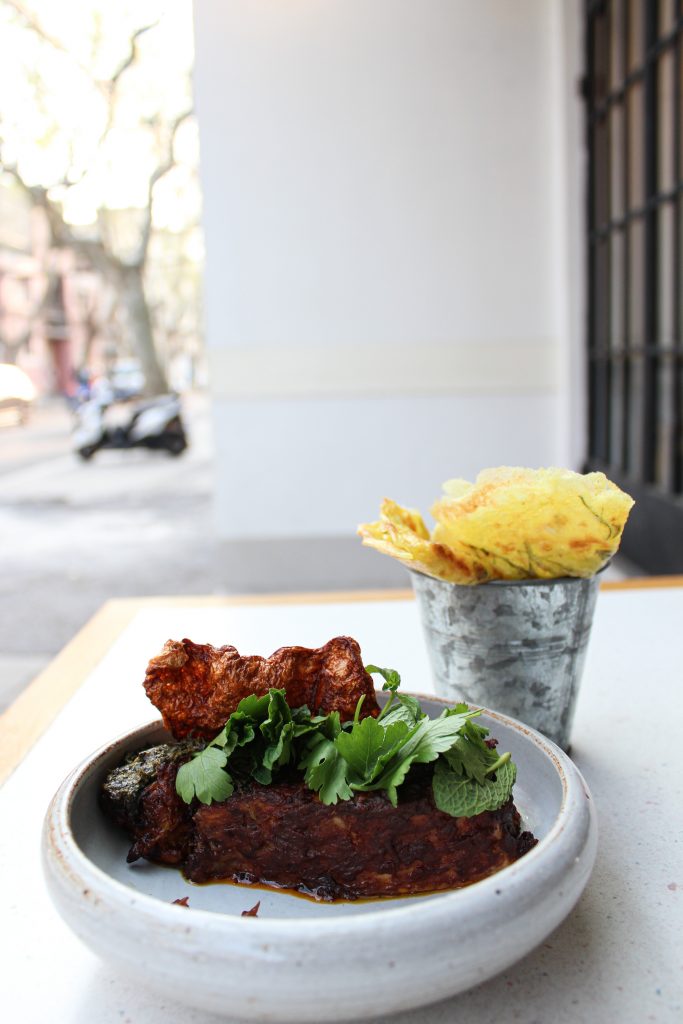 Egg
Jianbing French Toast: Triple stack white toast dipped in eggy cream batter, topped with French-style ham, roasted peanuts, Zhacai pickles, crispy wafer, tianmianjiang, cilantro + scallions, fried egg, and housemade chili oil with a Lettuce salad on the side.
¥60 (with ham), ¥45 (vegetarian). Available all day.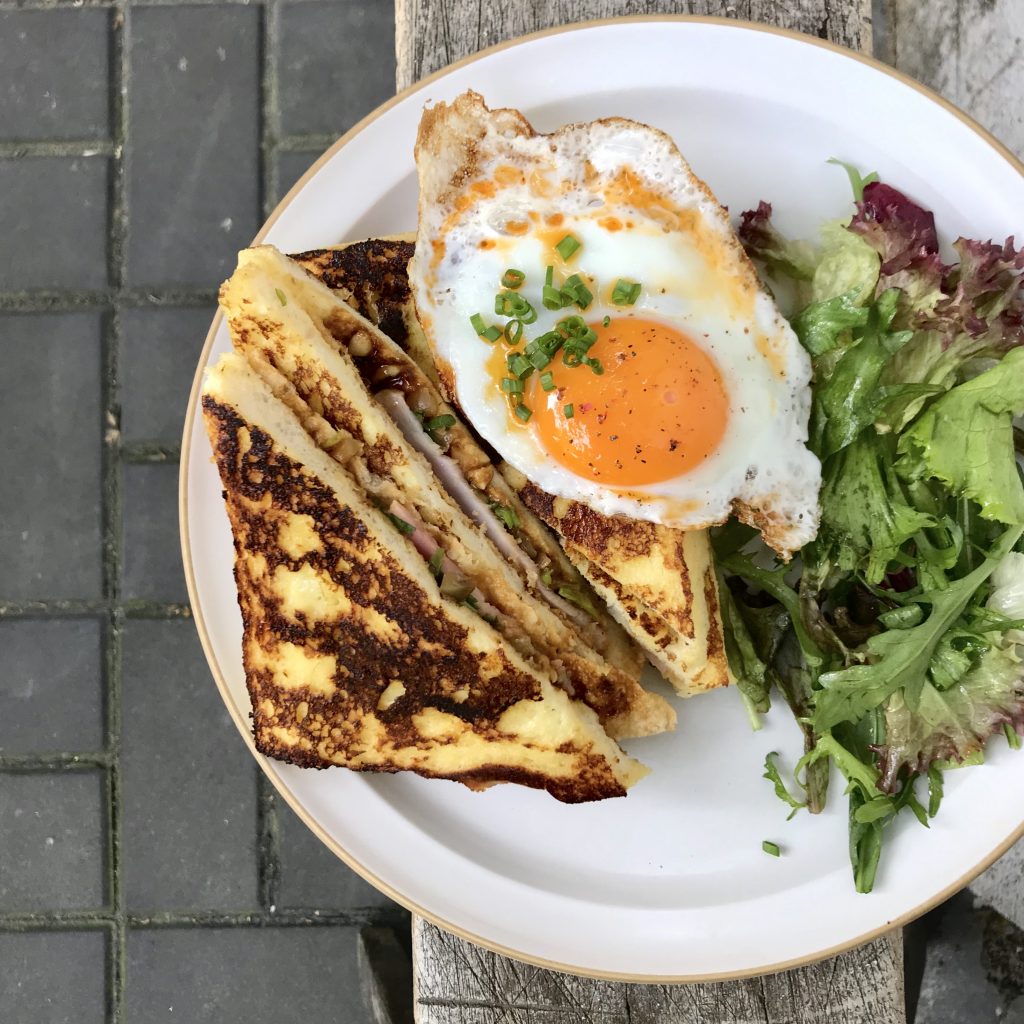 Heritage by Madison
Shanghai Fu Er Dai Luxe Jianbing: multigrain chive crepe wrapped around a salad of crabmeat, creme fraiche, and fine herbs, topped with sourdough bread tuile, and finished with an obscene dollop of sturgeon caviar. ¥888 – yes, you read that right! Available all day, all week from 4/30-5/7.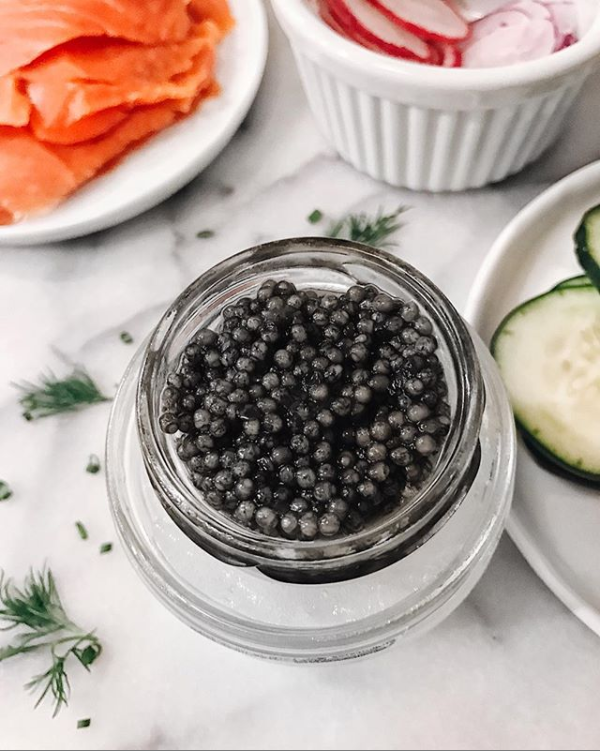 Homeslice Pizza
Jianbing Pizza: Signature sourdough crust, topped with tianmianjiang, cheese, and egg. Each order is sprinkled with pickled mustard greens, cilantro, and green onions, and customers can choose to add different crunchy toppings. Optional add-ons include ham, mortadella and pork floss.
Original Jianbing: ¥15 (Slice), ¥55 (12″), ¥80 (16″), ¥120 (20″). Jianbing with Ham/Mortadella: ¥65 (12″), ¥95 (16″), ¥145 (20″). Available at all locations, all day long and delivery on the usual platforms as well.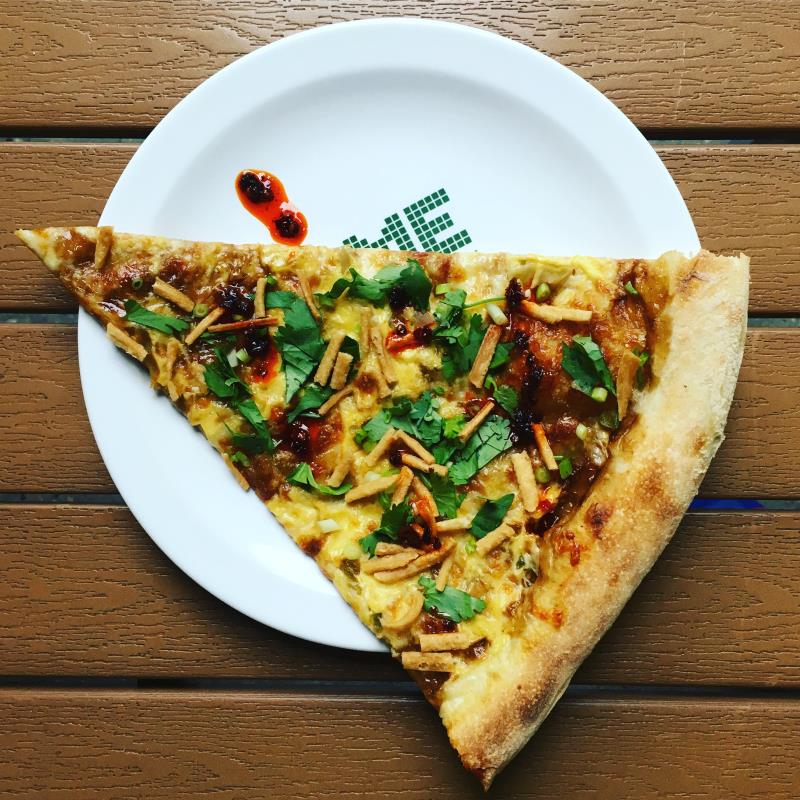 Papito Pancakes
Palačinka Jianbing: Egg, cheese, ham, green salad, roasted paprika, and Jianbing crisp on an east-meets-west jianbing. ¥48. Available all day in shop, and includes a free soft drink with every order.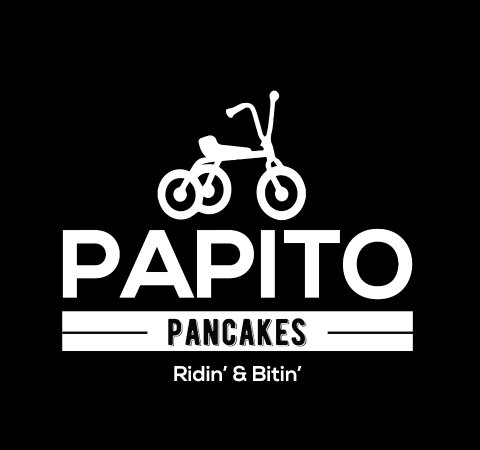 Perch
Puffy Bread Prosciutto Jianbing: Puffy bread added to its corn flour bing with freshly sliced prosciutto, cilantro, tianmianjiang, green onions, tomato, and a dash of mustard. ¥48. Available all day.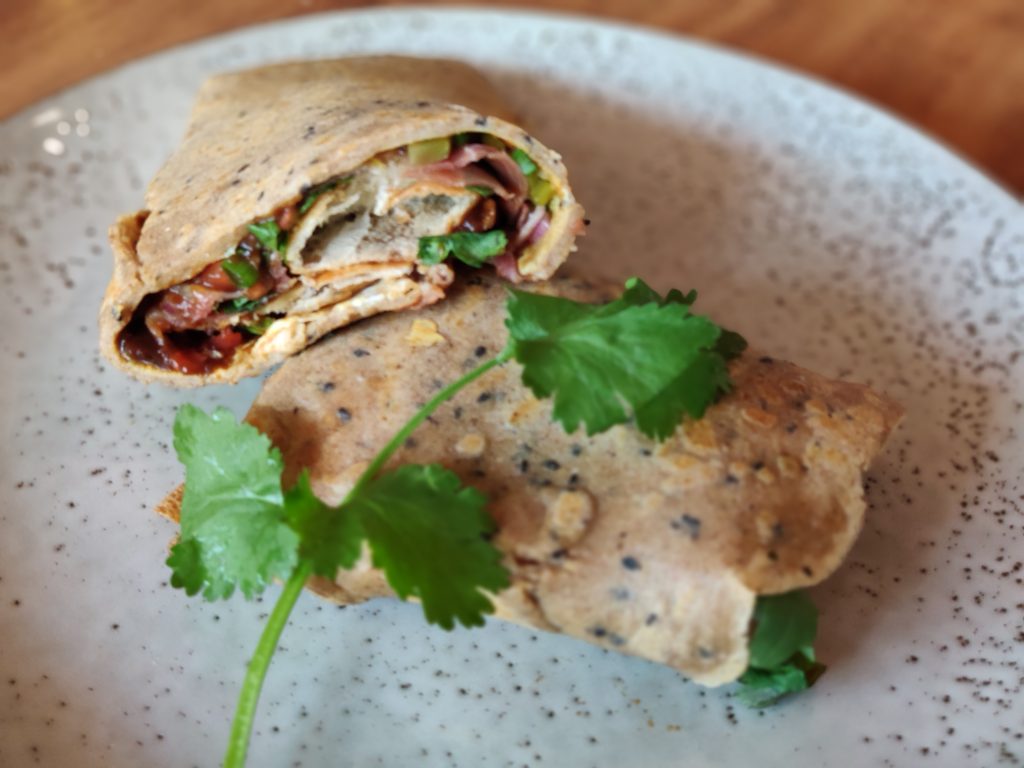 Spread the Bagel
NYC Deconstructed Jianbing Bagel: An open-faced everything bagel topped with candied spicy bacon, sriracha cream cheese, and a sunny side up egg. The bagel is garnished with green onions, cilantro, and garlic chili pepper sauce. Served with the other half of the bagel, which has been turned into everything bagel chips served with a green onion & sour cream cheese dip. ¥60. Available in-store and via delivery from April 30-May 3.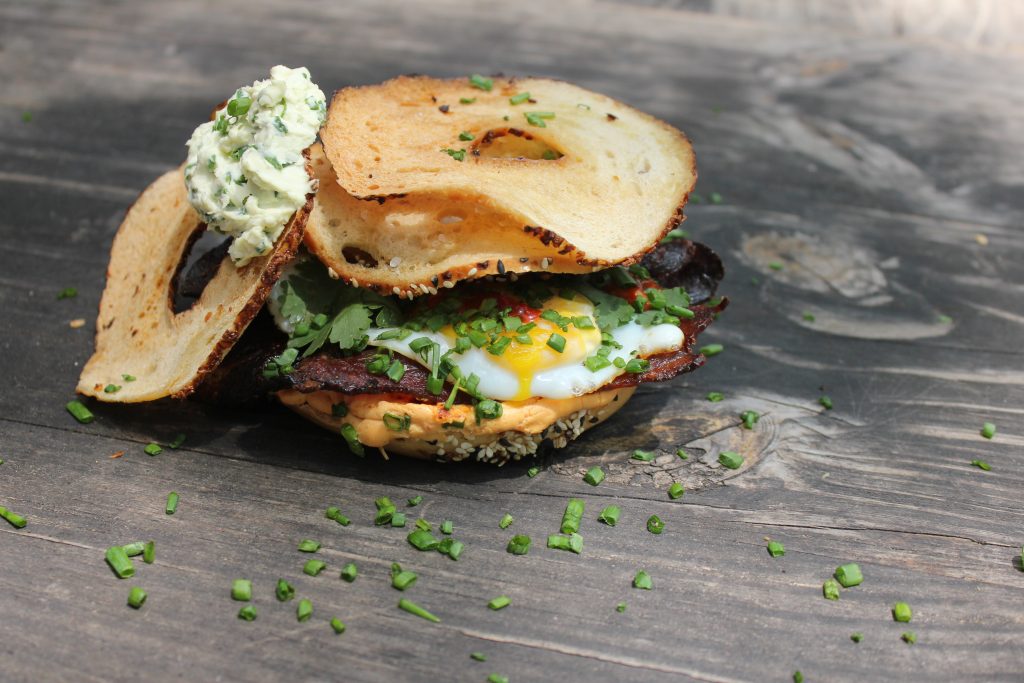 Strictly Cookies
Jianbing Cookie: Using a simple egg and wheat flour base, this cookie starts off with a spread of savory jianbing sauce, crumbled crunchy wonton crackers on top, and cilantro, and it is finished off with an egg yolk and chili glaze. ¥22/cookie. Available April 30th at our Yan An Xi Lu store (right next to Columbia Circle), or for delivery through our WeChat shop, website, eleme, sherpas or meituan.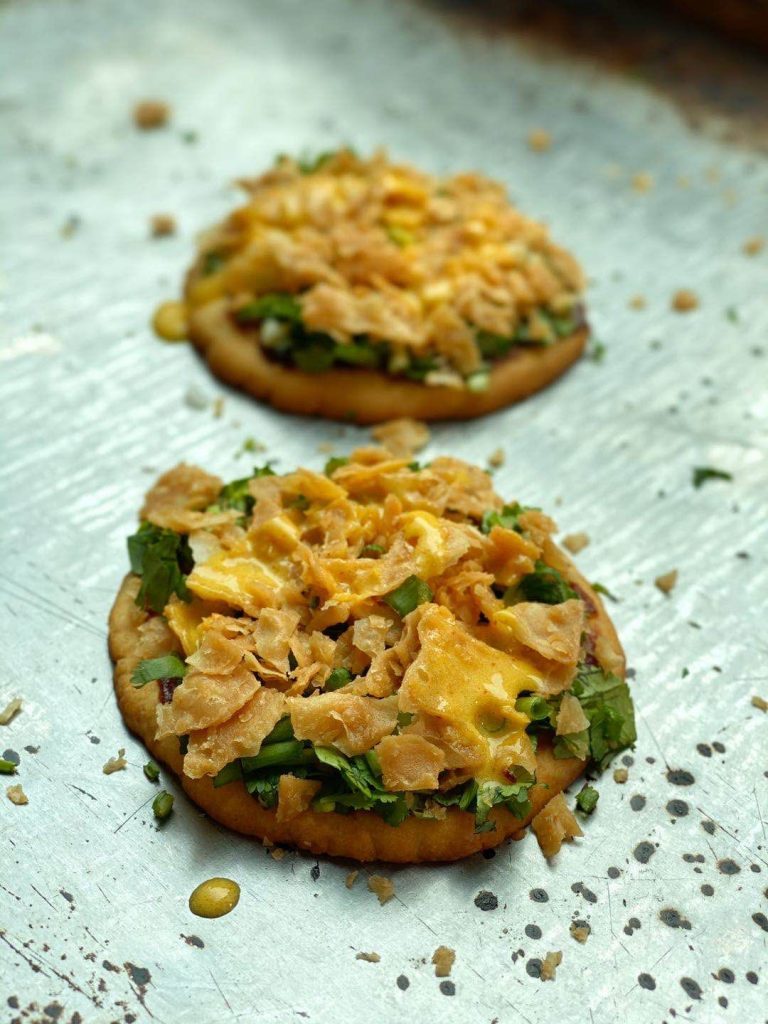 Tacolicious
Mexican Jianbing: Jianbing batter is topped with chicharonnes, mexican chili paste, steak asado, mozzarella cheese, fried egg, bbq sauce, cilantro, and green onions. ¥55. Available all day in-store