A 3-hour long food tour filled with tastings and flavors is a bold adventure itself, and when it happens before a big day of sightseeing at the Forbidden City or the Lama Temple and gallery hopping out in 798, you might just be in search of a toasty pour-over to set you on the right track for the day. Where are Beijing's best cafes and tastiest coffee? We've got you covered. One thing to note for China newcomers – most of Beijing's artisanal spots don't open until around 10am, so you'll have to depend on Costa and KFC for anything before that. We've included the details below.
Here are some coffee shops to check out near our Beijing Hutong Breakfast tour, with a Google Map of locations listed at the bottom.
Silence Café 静默咖啡 (10:00-21:00)
Beixin Sanxiang #11, Dongcheng District  东城区北新桥北新三巷11号
Hidden in a most unnoticeable nook of a residential Hutong area, Silence Café, as its name suggests, is not the ostentatious kind that is trying too hard for the tourist and walk-in traffic. The establishment is set up by baristas with hearing impairments who all communicate with sign languages. The result? A quiet corner for everyone to take a break from the racket of the outside world while sipping on their coffee of choice. From espresso starting at 20RMB to stellar pour-overs, you may find serenity and your choice of caffeine served at Silence.
thecorner Woyu Ditan  我与地坛 (08:30-21:30)
Hepingli Nanjie 100m East of Ditian East Gate, Dongcheng District 东城区地坛公园东门向和平里南街东100米.
Meaning 'Ditan park and I', thecorner café's Chinese name "Woyu Ditan(我与地坛)" unsubtly announces its proximity with Ditan Park – the perfect 1-2 punch. If you find yourself exploring the locals' favorite community activity space, don't hesitate to give this coffee hub a try. A 3-floored building conjoined with a car-wash(! – it's nicer than it sounds, we promise), thecorner exudes minimalistic fashion from their white painted walls, cement floor surface to their single-paged menu. Make sure to ask for a special list if you are looking for pour-overs or single origin beans. Whether you are looking to get some work done during a business trip or hunting for a cozy couch to doze off a minute, thecorner is a solid choice. If you fancy a strong drink or two, the bar also serves Red Star, a local novelty of the infamous Chinese Baijiu, for just 7RMB a shot.
BARISTA(Mon-Fri 08:00-20:00, Sat& Sun 10:00-20:00)
Wudaoying Hutong #47, Dongcheng District. 东城区五道营胡同47号.
'Good things come in small packages', or as the locals say "麻雀虽小,五脏俱全 máquè suī xiǎo, wǔzàng jùquán – a sparrow might be small but perfectly formed)", is an unofficial tagline of this café with merely 15 sqm space and 10 stools around the bar. The quality of their coffee doesn't compromise with the lack of space but it does manage to exceed your expectations every time. At Barista, you are encouraged to strike up a conversation with the barista on duty anytime. Even if a pro coffee connoisseur you are not, they will look for the best fit for you according to your personal palate. With the entire front face of the shop a wall of windows, Barista is also a lovely spot to do some people watching or just space out within the hutongs community.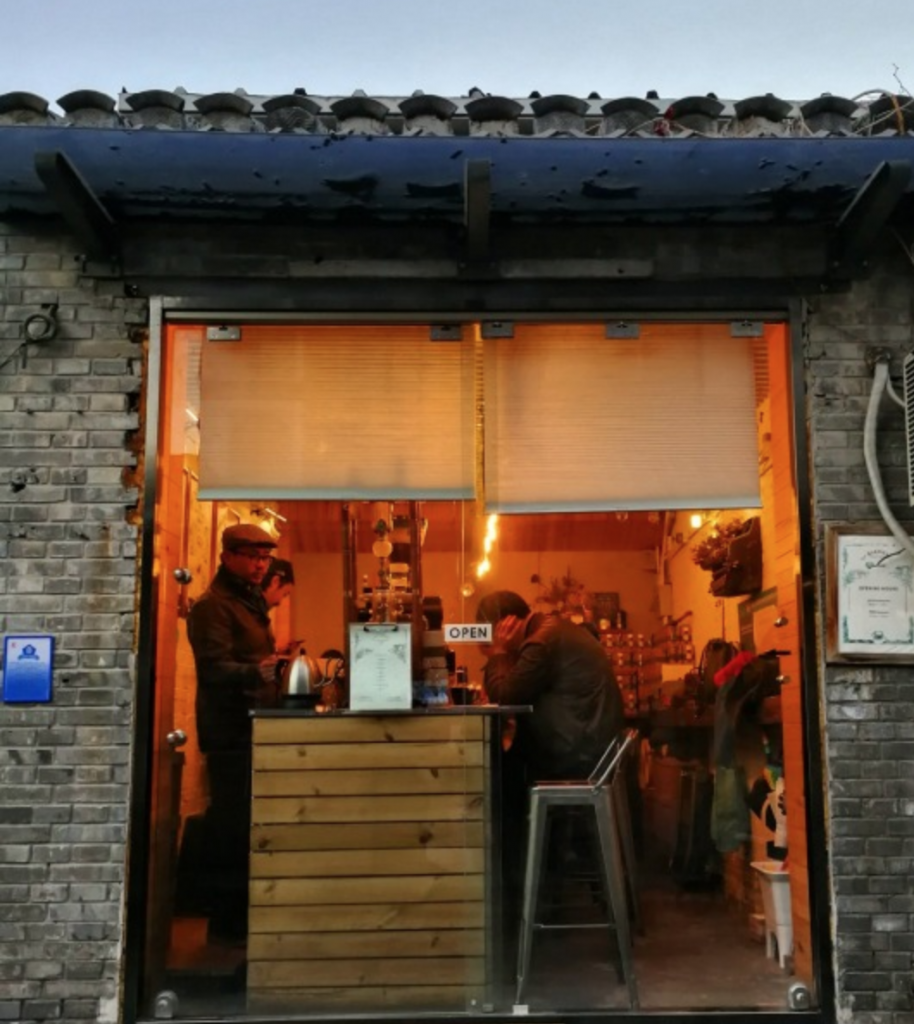 Auto Studio 凹凸空间 (11:00-01:00)
Beixinqiao Toutiao #67, Dongcheng District. 东城区北新桥头条67号
Despite the young and modern persona, the current Auto studio has undergone one reincarnation already and waved goodbye to their terrace. The latest version of Auto came back to be more compact, more artistic while managing to keep their hair-styling service (requires booking in advance). As the space was known to host exhibitions and pioneering art shows, it's not a bad idea to sip on some decent coffee, browse through the art pieces on display and maybe get a haircut too, you know, to come back from your travels with a stylish new look.
Coffee Chains For the Early-Risers
No explanations necessary, but always open earlier than local cafes.
Costa Coffee (08:00-23:00)
Wudaoying Hutong #1-3, near Yonghegong Lu, Dongcheng District. 东城区五道营胡同1-3号近雍和宫路.
Near Lama Temple metro exit E.
KFC (07:00-21:00)
Andingmen Wai Dajie #13, Dongcheng District. 安定门外大街西河沿13号楼.
Near Andinmen metro exit A.
We've mapped out our favorite Beijing cafes in Dongcheng District below. Get over your jetlag with the best coffee Beijing has to offer.
*Tip: If you have a Google account, hit the 'star' in the map embed title above to save this map to your account! Remember, if you're in China either download the Beijing area map to your account for offline use, or purchase and set-up a VPN before your trip – products like Google, Youtube, Gmail, Facebook, Twitter & more are blocked. More info. *