By Garth Wilson.
Heard of Zibo Barbecue? This regional specialty took Chinese social media by storm in the first half of 2023. In turn, social media users have taken Zibo by storm, flooding the city until it ran out of just about everything. The local tourism bureau asked tourists to stop coming to the "small" town of almost five million in central Shandong province, but now there's no reason to hop on a train and brave the crush of hungry visitors. You can try the famous barbecue without leaving Beijing – Zibo's wildly popular barbecue is now sizzling on a rooftop above a fruit shop in Andingmen.
The history of barbecue in China is long and storied. China's position at the eastern end of the ancient Silk Road has seen it enjoy more than 2,000 years of delicious barbecue history, with records indicating Chinese people have been grilling shish kebabs, meat skewers and all kinds of meat on sticks since the Han Dynasty (202BCE-220AD). Since then, Xinjiang, Xi'an, Beijing and other points along the Silk Road route, as well as the Northeast China region, have all developed proud barbecue cultures. However, in 2023, one unknown city in eastern China's Shandong Province took just months to steal the title of China's Barbecue Capital.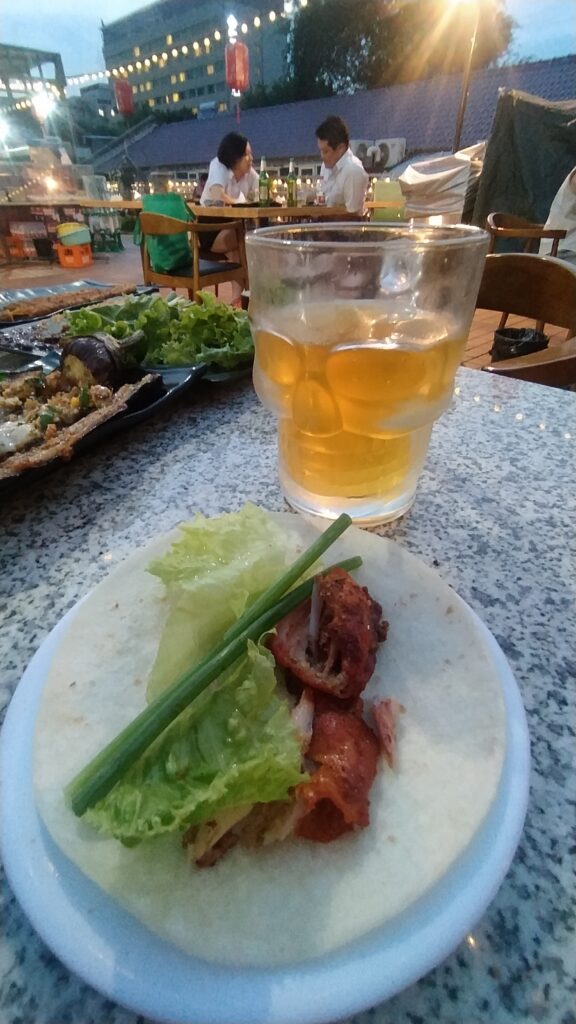 The previously anonymous chemical processing city of Zibo began to see an influx of visiting diners in early March this year, after videos of the city's distinctive style of barbecue gained traction among the nation's more than one billion internet users. The videos, largely made by university students, showed table-top grilling of mutton skewers and their subsequent consumption wrapped in flatbreads with green onions, sauces and spicy peanut dust.
As travel restrictions had just been relaxed in China and people began to join the global phenomenon of revenge tourism, a weekend trend began to emerge among China's previously locked-in students. "Military-style travel" or "Special-forces travel" involves arriving in a city, seeing, doing, and eating as much as possible, then getting out again within a limited time, and usually on a limited student budget. The online fame of Zibo's distinctive but inexpensive barbecue was just what millions – yes, millions – of university students were looking for.
In March alone, the city of 4.7 million residents received 4.8 million barbecue-hungry visitors. And as they began to fill tables across the city, skewers in one hand and selfie stick in the other, the number of barbecue restaurants swelled to 1,270. Restaurateurs and their staff began sleeping as little as four hours a night. The machines used to make the flatbreads sold out. And the city ran out of the bamboo brochettes used to skewer the meat.
By the end of April, authorities in the city began actively discouraging visitors. On April 26, the Zibo Bureau of Culture and Tourism released a statement saying the influx of tourists was causing trouble and inconvenience and asking tourists not to visit during the upcoming May Day (International Labor Day) holiday on May 1-5. But by then, the Delta variant, which had only just broken through the lockdowns, had already been replaced by Zibo Barbecue Fever. Not only did the city receive more tourists than the Great Wall during the holiday, but mainstream media coverage was creating a demand for Zibo barbecue in cities across China – which was great news for those of us eager to try but unwilling to join the throngs of "special-forces tourists."
After the holiday, enterprising Zibo locals began seeking their fortunes in cities around the nation, setting up Zibo barbecue restaurants to make the most of their home cuisine's newfound fame. In the weeks that followed, one such restaurant 慕诗露天烤吧 (Mushi Outdoor Barbecue) found its way into the hutongs between Beijing's Lama Temple and its Drum and Bell Towers, right on the UnTour Food Tours Hutong Breakfast Tour route. We've since visited the restaurant twice, and think it is well worth a visit if you're looking for a novel rendition of Chinese barbecue, if you want to join the trend and eat what the cool kids eat, if you are a fan of rooftop dining or if you're just curious to see what all the fuss is about.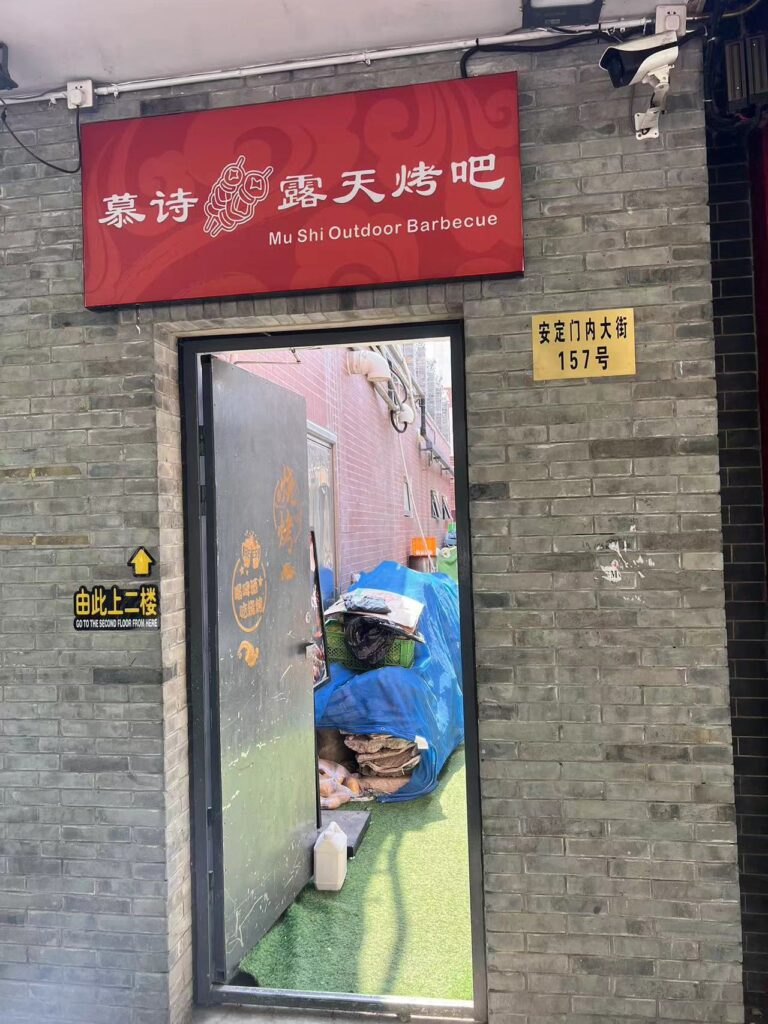 The unassuming entrance at 157 Andingmen Nei Dajie (安定门内大街157号). Walk all the way to the back and take the stairs on the left up to the rooftop.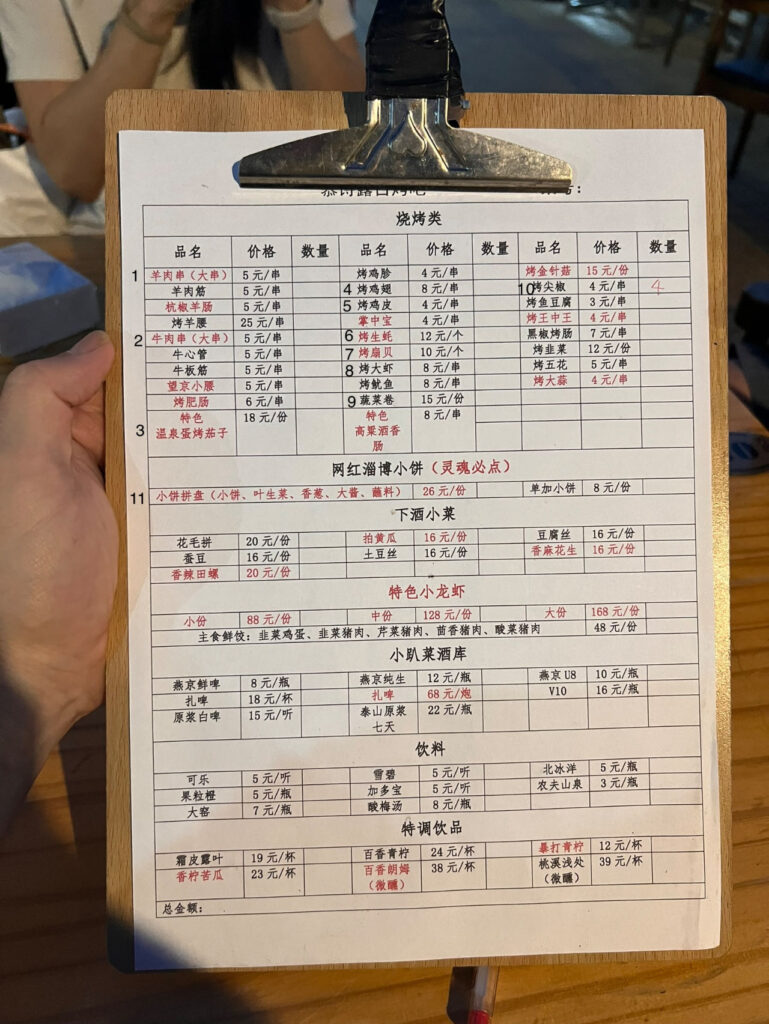 The Mushi Outdoor Barbecue menu with our recommendations. Just write how many of each you'd like in the 数量 column):
1. Mutton skewers
2. Beef skewers
3. Grilled whole eggplant with an egg on top
4. Chicken wing skewers
5. Crispy chicken skin skewers
6. Oysters in their shells topped (liberally) with garlic and grilled
7. Clams prepared as above
8. Shrimp skewers
9. Vegetables wrapped in tofu, skewered and grilled
10. Large green chilli skewers
11. The flatbreads, vegetables and condiments to eat with your skewers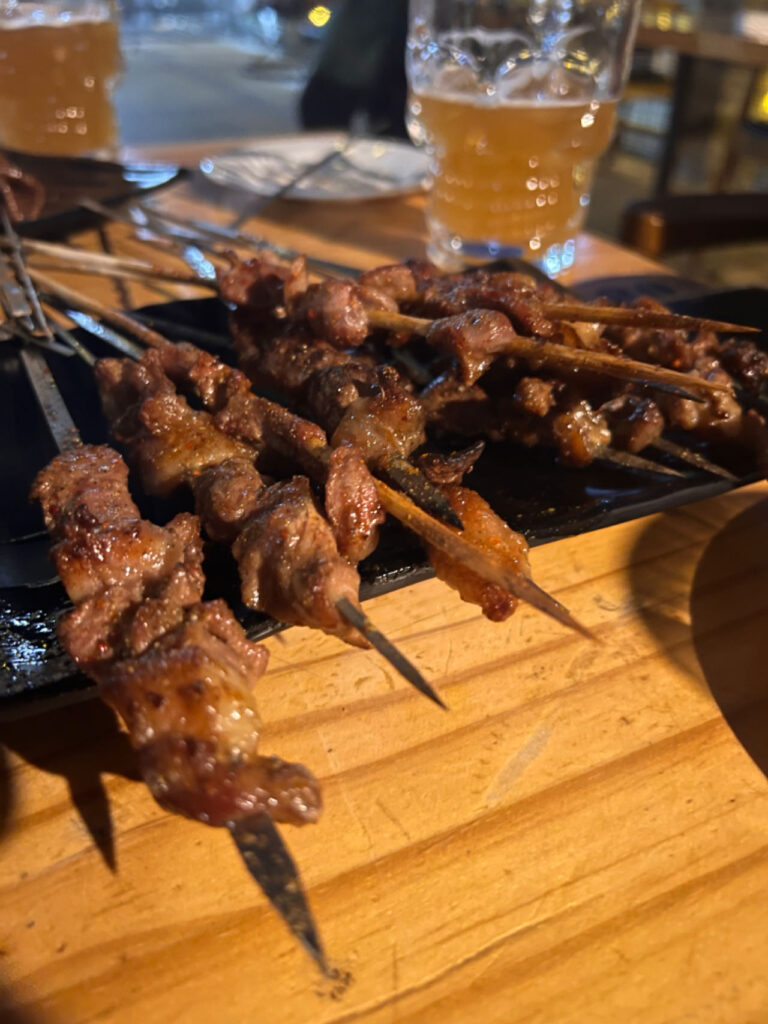 Skewers ready for wrapping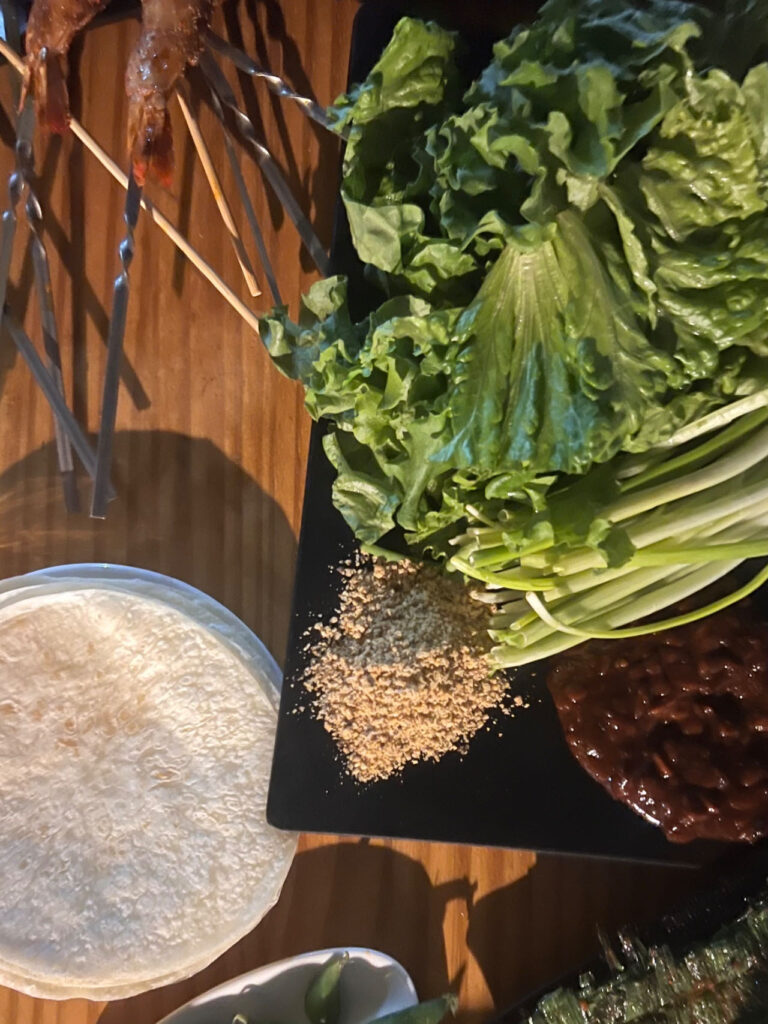 The nationally famous flatbreads and condiments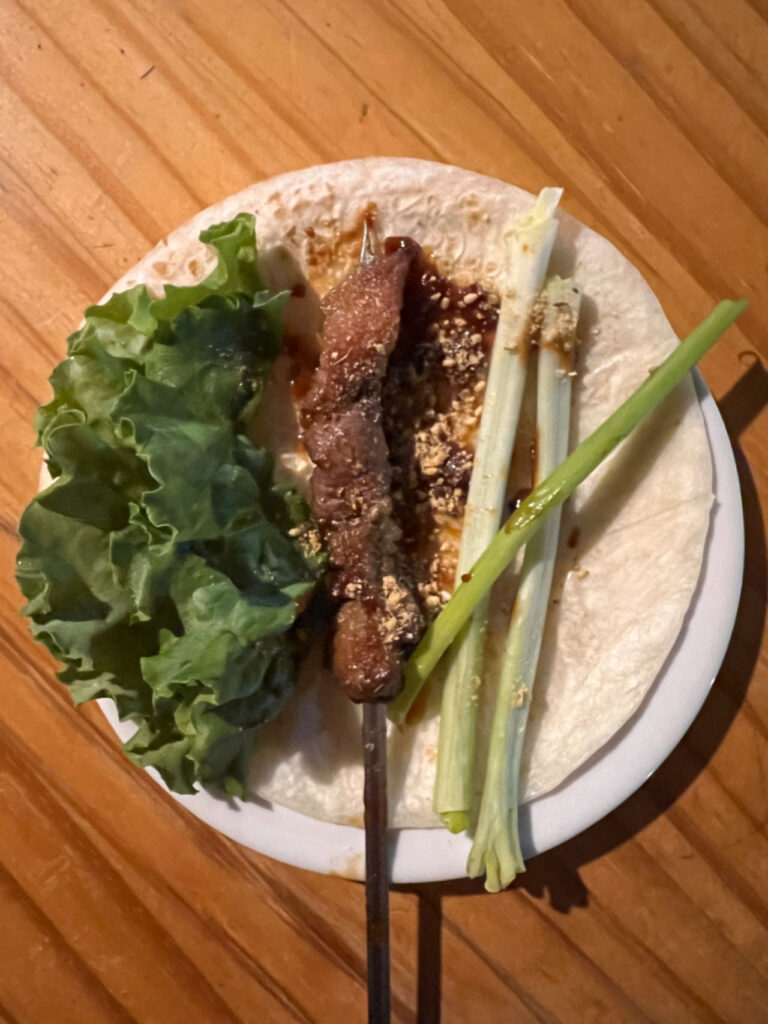 Wrap, grip, and remove the skewer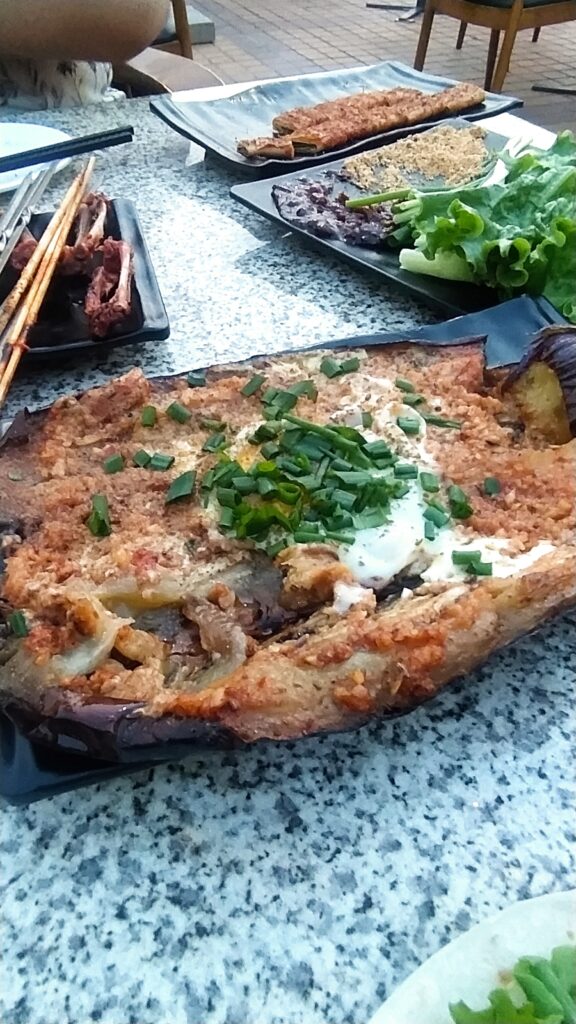 Grilled whole eggplant with an egg on top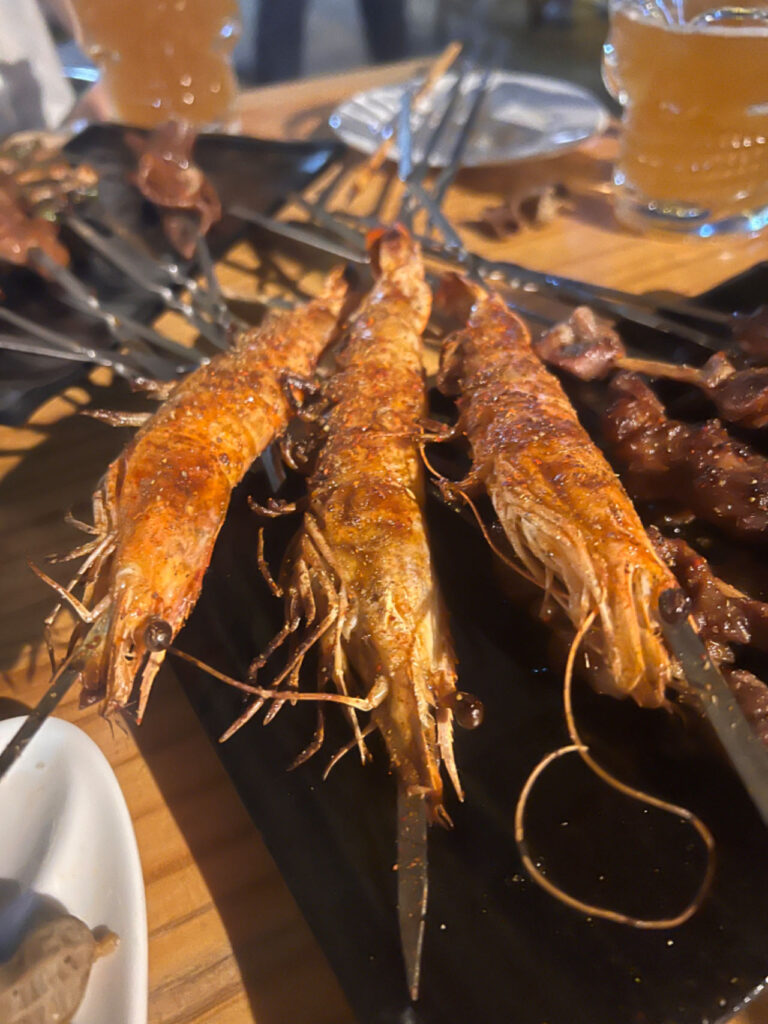 Grilled shrimp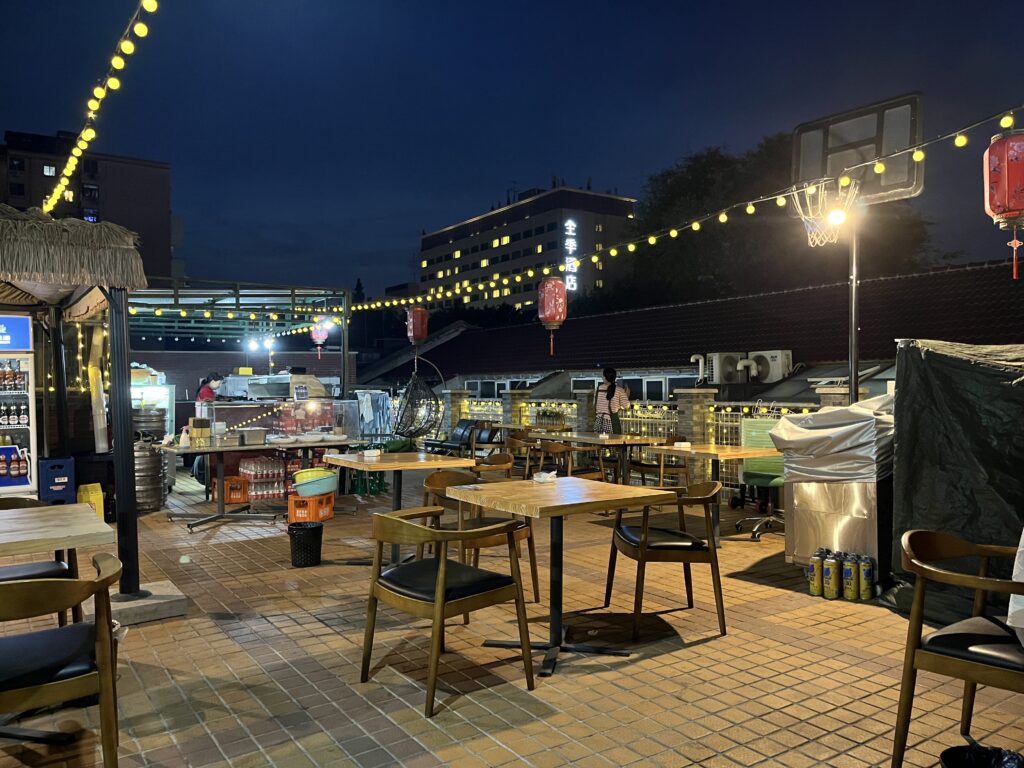 The rooftop at the end of the night
While the fanaticism millions have shown for Zibo barbeque can be traced back to March, the students' original discovery of it is believed to date back to last year. During one mass lockdown a year ago, more than 10,000 university students were transported to Zibo for isolation in the city's quarantine facilities. As each group of students was released, local authorities treated them to the local barbecue before they left the city, inviting them to return again in the spring. It's believed that some of the students did indeed return in the spring, bringing the "special forces" in their wake.
Where to Eat Zibo Barbecue in Beijing:
Mushi Lutian Kaoba 慕诗露天考吧
157 Andingmen Nei Dajie, Dongcheng District 东城区安定门内大街157号
Phone 15554552515
Hours 16:00 – 23:30
500m south of Andingmen Subway Station Exit A