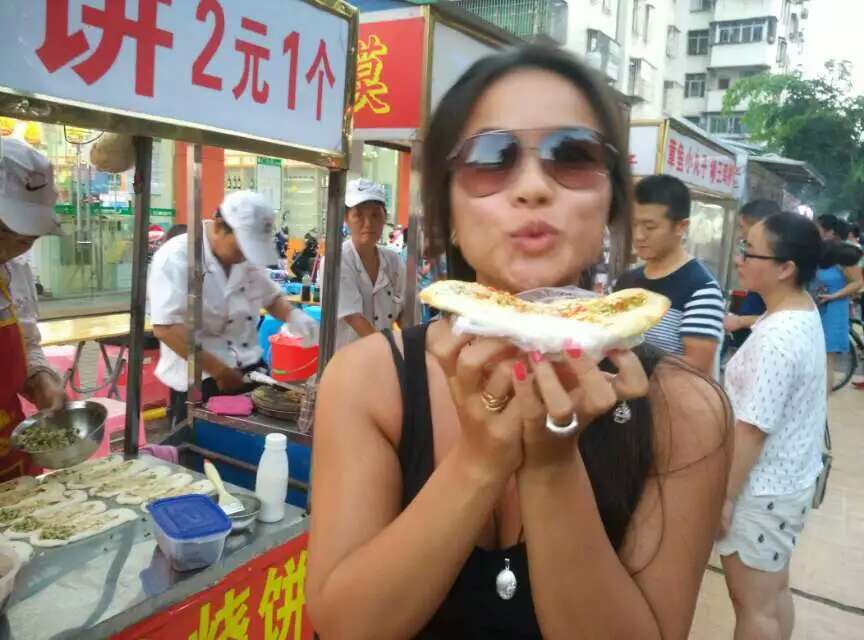 Name: Chelsea Chan, Shanghai Dinner Guide
Age: 28
Nationality: Dutch
Dutch born Chinese, Asian foodie, spice lover, bachelor in International Business, master in Marketing, lived in the Netherlands, Portugal, Hong Kong and China. Speaks Dutch, English, Cantonese and Mandarin. Basic German and French.
Engaged to a guy surnamed Voets (Foods!), must be a match made in food heaven 😉
What's your 'other job' and what do you love about being a Shanghai Dinner Guide?
I work full time as Sales & Marketing Executive for a French company in frozen desserts. So I work closely with hotels, airline companies, restaurants and cafes. Food, 24/7!
What I love about being a food tour guide is that I get to "work" with fun people (I don't see it as a job at all, so that's also what I love about leading a tour!) It is my passion to share my food and knowledge about the food with people from all over the place.
Tourists/visitors/explorers are always curious to learn about the Chinese culture, they bring along lots of enthusiasm and they give me loads of energy to lead the tour like I would be leading a tour with friends or family!
What is the one restaurant that you recommend to every visitor?
There are many restaurants I would recommend to my visitors, depending on their background, preferences and appetite of course, but Lost Heaven (Gaoyou branch) is still the favorite amongst all because of the variety of dishes, great service, location, atmosphere and reasonable prices.
Ed. note: Here's a list of some great of our recommendations – the menu is huge.
Where do you go when you want to travel outside of Shanghai?
Within China, I love to travel to Hainan, because of the great weather and I used to live there, so it is basically my second hometown in China.
Outside of China, I love to travel to Vietnam, Philippines and Thailand for the amazing beaches, the blue sky (fresh air!) and… FOOD of course!
Any areas of the city you find yourself going back to all the time, and why?
Erhm. Putuo, somehow.. probably because I live there 😉 and Jingan! Because I used to work and live in that area so I know my way around and where to get the best food and drinks.
Next to that, I love to bike around the French Concession, walk around the Bund (the view amazes me every time I go there) and browse around the bazar of the Yu Garden (very touristic, but hey, that can be nice from time to time).
What's the best thing someone can do/read/buy to plan their trip here?
Do download a VPN if you are attached to your Facebook wall and Google Maps
Do bookmark smarthshanghai.com for the addresses in Chinese to get around town by taxi – drivers don't speak or read English – you MUST have Chinese addresses.
Do learn a few simple Chinese words like nihao (hello) and xiexie (thank you), you will be surprised how many friendly smiles you will get in return!
Do not "over plan" your trip, Shanghai is full of surprises!
And of course, do book a Shanghai food tour with us! 😉
What's the first thing you eat when you've been away for a while? 
Hainan (boneless) Chicken, water spinach with garlic & Hainan chicken rice at Five Star.
Click here for more info on our Shanghai nighttime food tour of Old Town and the Former French Concession Area.