SHANGHAI VEGAN BREAKFAST TOUR
Morning Street Food Tour

100% Vegan

3 Hour Breakfast Experience
Whether you're a full-time vegan or just a flexitarian looking to reduce your meat consumption, this 100% vegan tour will introduce you to a brand-new world of breakfast dining in Shanghai. On this plant-based tour, you'll get off the beaten path to sample breakfast treats that are customized to the vegan diet, as well as some fully vegan specialties you didn't even know existed! While strolling through the beautiful former French Concession, you'll meet our trusted vendors and sample freshly-pulled noodles, the "butter" of soy milk, pan-fried dumplings stuffed with homemade tofu, and so much more.
**Please note: this tour is not an exploration of purely vegan restaurants. It's a way for UnTour to show you how to eat vegan and find vegan options at local restaurants around town. We will be visiting some restaurants that also serve meat dishes and thus the dishes will be prepped in a kitchen that also has animal products. All dishes served on the tour will be vegan.**

Price:

Adults: US$80 / RMB 525
Kids (Ages 6-12): US$60 / RMB 395
Tiny Tots (Ages 0-5): Free (if tasting not required. If the tiny tot would like a tasting, please purchase a Kids' ticket).
On public tours, each child must be accompanied by an adult.

Duration:

3 hours

When:

Available any day of the weeks as a private tour only for minimum 6 guests. For private tours, please contact us.

Where:

Near Shaanxi Rd (South) Metro. The exact tour meeting point will be emailed upon booking.

Max Group Size:

8 guests + 1 guide. Please contact us for large groups.

Transport:

Walking (2.3 km or 1.5 miles)

Inclusions:

10+ Vegan Tastings • Wet Market Visit • Coffee or Tea • Unlimited Bottled Water & Soft Drinks • Curated Park Stroll • Welcome Packet • Awesome Bilingual Tour Guide!

How To Book:

Click here to book your tour.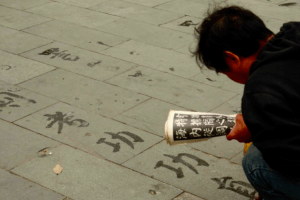 START YOUR MORNING OFF RIGHT
Stroll through one of the former French Concession's most energetic parks – and watch the retirees practicing tai chi, water calligraphy, line dancing and Traditional Chinese Medicine.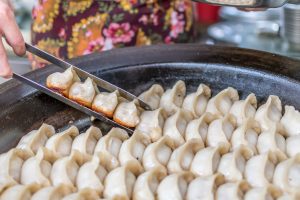 DISCOVER NEW VEGAN BREAKFAST DISHES
Broaden your ordering vocabulary and find out how to order some favorite local dishes vegan! You'll also discover new vegan dishes you've never tried before.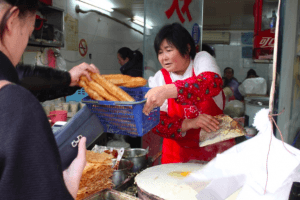 WATCH STREET FOOD MADE TO ORDER
Freshly made soymilk, local donuts, potstickers, the Chinese crepe that is becoming a sensation all over the world… you'll watch your vegan food being made before your eyes – then sit down to sample it when it is at its freshest.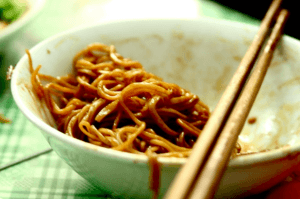 SEE NOODLES PULLED BY HAND
It's a culinary magic trick that will have you reaching for your phone. Watch as a block of dough is transformed into a bowl of delicious noodles – all in less than one minute.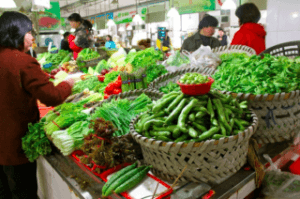 EXPLORE A LOCAL WET MARKET
These bustling markets are where locals do their grocery shopping. Admire heaps of lily bulbs and bamboo shoots, see more varieties of tofu than you ever knew existed and find out why they call it a "wet" market in the teeming seafood section.
*Each tour has 4-5 rotating seated stops offering a tasting of 10+ dishes.
"UnTour's street eats breakfast tour starts with a tasting of three of Shanghai's four most popular breakfast foods, collectively known as the "four heavenly kings". There are crispy, oily, fried youtiao doughnuts, which are dipped into a freshly made sweetened soy milk that also helps wash down a dense cifantuan rice ball."
UnTour even made it possible for myself (a vegetarian) and my boyfriend (a vegan) to enjoy local cuisine! We were not sure how much we would be able to eat but with the help of Mitch, our guide, we were able to eat a TON. We left very full and extremely satisfied. This is a must do tour for people visiting Shanghai!