According to CNNGo, Shanghai is the fifth best vacation destination for foodies. And while we're not going to argue with them about their top selection of London (for its offal?! I mean, we love our Weird Meat from tip to tail too too, but c'mon! Very few people get on a plane for entrails.) And the reason Shanghai got fifth? The dumplings.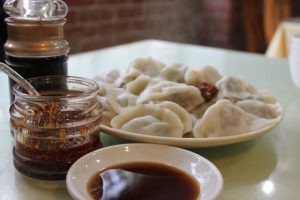 This couldn't be better timing for UnTour, as we've been putting together a dumpling tour for ages and now we're finally launching it! CNNGo recommends heading to Jia Jia Tang Bao for good soup dumplings (we've got our own opinions on the best xiaolongbao in Shanghai here), but if you're interested in shengjianbao (Shanghai's specialty fried dumplings), shuijiao (Northeastern style boiled dumplings), Cantonese har gow (steamed shrimp dumplings) and hundun (wontons in soup), then this is the tour for you! We also stop by one of our favorite xiaolongbao stops too, so you will get the full experience!
To book your Dumpling Delights tour, please email info@untourfoodtours.com or visit the Hands On Dumpling Delights page here.