Most visitors to Beijing know that Peking Duck is a must-do dining experience. But if you've got a few days in the city, hotpot is not to be missed as well. Check out our Mongolian-style hotpot recipe below.
Mongolian-style hotpot is the most ubiquitous style in Beijing. The origin story begins in Mongolia – warriors used their helmets as makeshift pots to boil strips of meat over their campfires. They needed all the strength they could muster on their journey south to breach the Great Wall.
Regional variations have sprung up around the country and are also commonly found throughout every Chinese city, and worth exploring in their own right: from spicy mala Sichuan-style with mouth-numbing peppercorns to Cantonese-style brimming with seafood from the South China Sea and Taiwanese 'health-pots', the variety is immense. If you're not making it to China for a trip anytime soon, test out our Mongolian-style hotpot recipe that follows.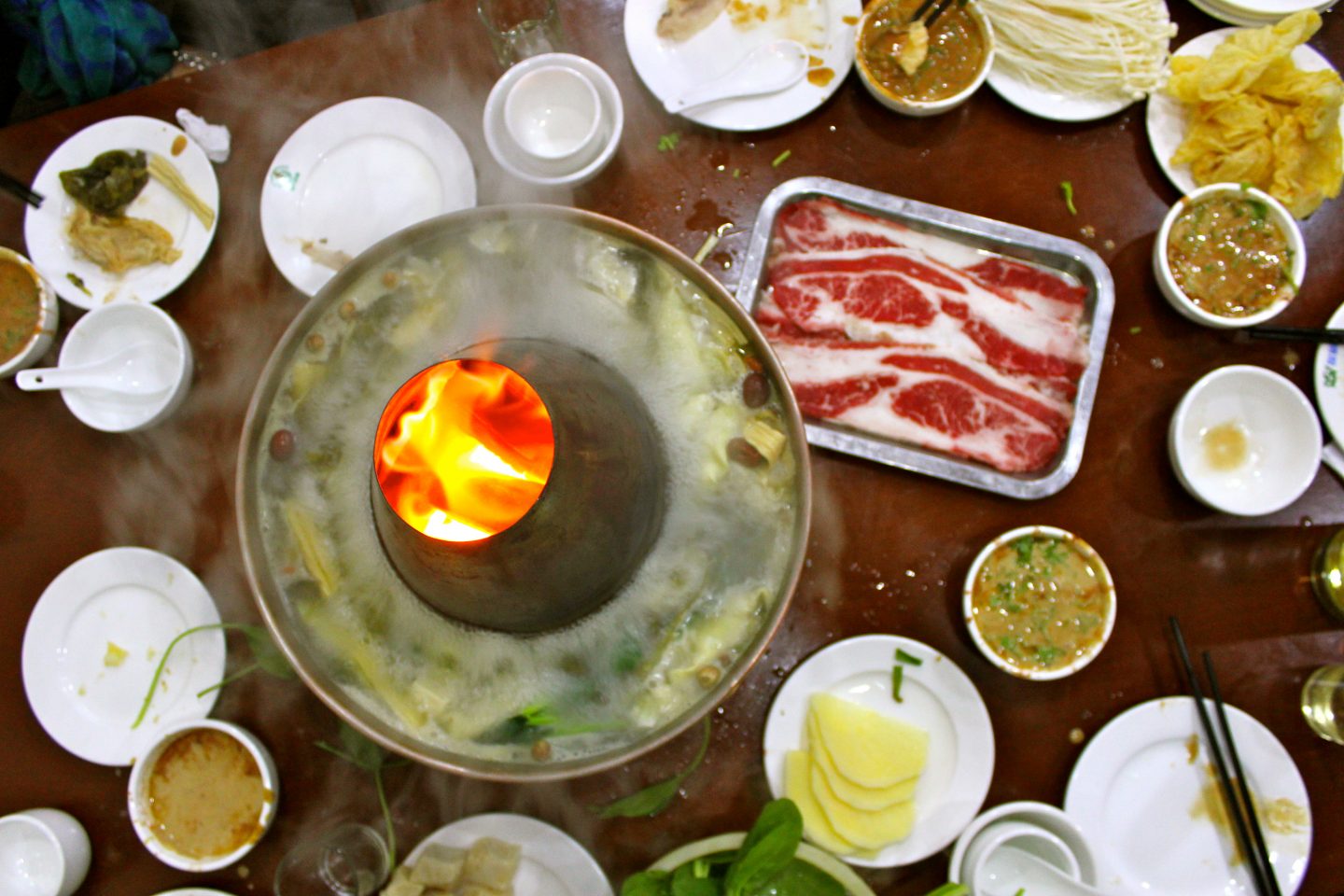 Mongolian-Style Hotpot Recipe
Hotpot (Broth)
Several liters of water
Sliced white part of a Chinese leek/chive (韭菜) Goji berries
Nori sheets (edible seaweed) Sliced ginger
Dried shrimp (optional)
Hotpot Ingredients (These are just a few suggestions – if you can dip it, you can hotpot it!)
Hand-sliced lamb shank (make sure it's fatty)
Spinach
Lotus root
Tofu skin
Shiitake mushrooms
Cabbage
Hotpot (Dipping Sauce)
Chinese sesame paste (芝麻酱)
Leek/chive paste (韭菜花)
Savory-sweet bean paste (甜面酱)
Fermented soybean paste (腐乳)
Minced scallions/green onions
Minced coriander/cilantro
Start with a lot of sesame paste, then add the latter sauce ingredients and chopped herbs in to taste – it's really all about the sesame paste! For a more detailed description of ratios and possible combinations, click here. Mongolian-style hotpot is all about the dipping sauce, as the broth itself is relatively simple compared to other styles of hotpot.
For more info on hotpot, join our Old Beijing Dinner tour. We sample Mongolian-style hotpot with the delicious dipping sauce at our first stop!