In late autumn and early winter, Shanghai goes crazy for hairy crabs (大闸蟹 dàzháxiè).
Named for their furry claws, these local crustaceans have sweet meat and rich, custardy roe – both of which are bulked up at this time of year for mating season. All the five star hotels in the city offer exquisite tasting menus, but if you're looking for a local experience, sample the crab at one of these locations. You can also try hairy crab noodles at A Niang or braised tofu with hairy crab roe at Old Jesse.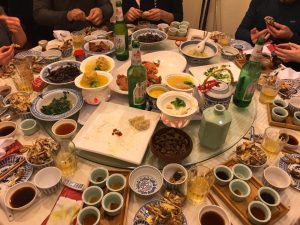 Want to learn more about these furry crustaceans, but don't know where to begin? Let UnTour take the wheel. On this three hour Hairy Crab Dinner, you'll find out why Tang Dynasty poets immortalized these crabs in verse millennia ago while sampling the delicacy in many different forms at three local eateries. You'll walk through the streets of Shanghai's Old Town, an area that is currently disappearing lane by lane, and sample several classic hairy crab dishes, including xiefen xiaolongbao (pure crab steamed soup dumplings) and crab roe wontons. You'll also learn the multi-step process to cracking open the crab, and discover the Traditional Chinese Medicine reason why you should pair it with plenty of huangjiu (Chinese brandy). Book now!
Cejerdary 蟹家大院
This specialty hairy crab shop requires 12 crabs to make one bowl of noodles, using both the gao from the male crabs and the xiehuang from the female crabs, plus edible flakes of gold to create the ultimate bowl of hairy crab goodness. You can expect that to be reflected in both the flavor and the price tag.
Bund Location: 59 Guangdong Rd, near Sichuan Middle Rd. 广东路59号, 近四川中路. Subway: Line 1/2/8 – People's Square. Tel: +86 21 6969 7777.
Changning Location: 1266 Kaixuan Rd, near An'shun Rd. 凯旋路1266号, 近安 顺路. Subway: Line 3/4/10 – Hongqiao Rd. Tel: +86 21 5230 0008.
Menu: Chinese only. Hours: 11am – 8:30pm.
Cheng Long Hang Xie Wangfu 成隆行蟹王府
A hairy crab institution, this restaurant brand has several outlets around town and is a must-visit for those who want to taste the crustacean in all of its delicious incarnations. In addition to the steamed (and pre-shelled) crabs, they also serve lion's head meatballs with crab meat (蟹粉狮子头xièfěn shīzi tóu), an insanely rich pile of pure stir-fried crab meat (清炒蟹粉 qīng chaˇo xièfěn) and crab roe & pork soup dumplings (蟹粉小笼包 xièfěn xiaˇo lóng bāo).
Bund Location: 216 Jiujiang Rd, near Henan Rd (Middle). 九江路216号 近河南中路. Subway: Line 2/10 – East Nanjing Road. Tel: +86 21 6321 2010. Hours: 11am-2pm & 5-10pm.
FFC Location:  3F, 1 Fenyang Rd, near Huaihai Rd (Middle). 汾阳路1号淮 海国际广场裙楼3楼近淮海中路. Subway: Line 1/10/12 – South Shaanxi Road. Tel: +86 21 6467 0999. Hours: 11am-11pm.
Pudong Location: 6F, Jinmao Tower, 88 Century Ave, near Dongtai Rd. 世纪大道88号裙房金茂时尚生活馆6楼. Subway: Line 2 – Lujiazui. Tel: +86 21 5047 7773. Hours: 11am-10pm.
Menu: Chinese only.
Xin Guang 新光
This hairy crab house started in 1991, so it is relatively young in Shanghai terms for this seasonal specialty, but it grew up fast. Now three locations around town sell upwards of half a ton of crab meat every day during peak season. That's because they serve degustation menus, and hairy crab is featured in each one of the courses. It won't come cheap (most menus start at RMB 500 and go well up into the thousands), but in addition to steamed hairy crab and crab roe xiaolongbao, they also serve dishes like asparagus stir-fried with crab meat (蟹柳芦笋xiè liuˇ lúsuˇn), wontons stuffed with crab meat (蟹粉小馄饨 xièfěn xiˇao húntún) and shell-on crabs stir-fried with rice cakes in a seafood gravy (毛蟹 年糕 máoxiè niángāo)
Bund Location: 512 Tianjin Rd, near Guangxi Bei Rd. 天津路512号近 广西北路. Subway: Line 1/2/8 – People's Square. Tel: +86 21 6322 3978. Hours: 11am-2pm & 5-9:30pm.
Pudong Location: 4F, 800 Huamu Rd, near Haitong Rd. 花木路800号 帝盛酒店4楼近海桐路. Subway: Line 2 – Century Park. Tel: +86 21 5059 2758. Hours: 11am-2pm & 5-10pm.
Changning Location: 7F, 1591 Hongqiao Rd, near Shuicheng Rd. 虹桥路 1591号虹桥欢迎宾7号楼近水城南路. Subway: Line 10 – Shuicheng Road. Tel: +86 21 6219 7788. Hours: 11am-2pm & 5-10pm.
Menu: Chinese only.