Where to Find Shanghai's #1 Jianbing Stall
When guides ask guests on our Shanghai Street Eats Breakfast tour which dish was their favorite, 8 out of 10 will answer jianbing 煎饼. It somehow manages to fit a multitude of descriptors into one bite: light, crispy, sweet, salty, spicy, sour, comforting, and just damn good.Fatty's Jianbing (胖子煎饼) is the number #1 rated jianbing 煎饼 spot on Dianping, China's favorite restaurant rating app/website.
It's located on a residential street 10 km southwest of People's Square, near the Shanghai South Railway Station, surrounded by 30-story apartment blocks. There's not much else on the street, just a constant line of 10-15 people waiting to try Shanghai's best jianbing.
The Stall
The couple who run the place are from Huai'an in northern Jiangsu and have been making jianbing in Shanghai for 15 years. We arrived at 10:25 a.m., 25 minutes after most of Shanghai's jianbing vendors would have already closed. Fatty's opens at 7 a.m. and closes at 2:30 p.m., so presumably people make this their lunch, as well.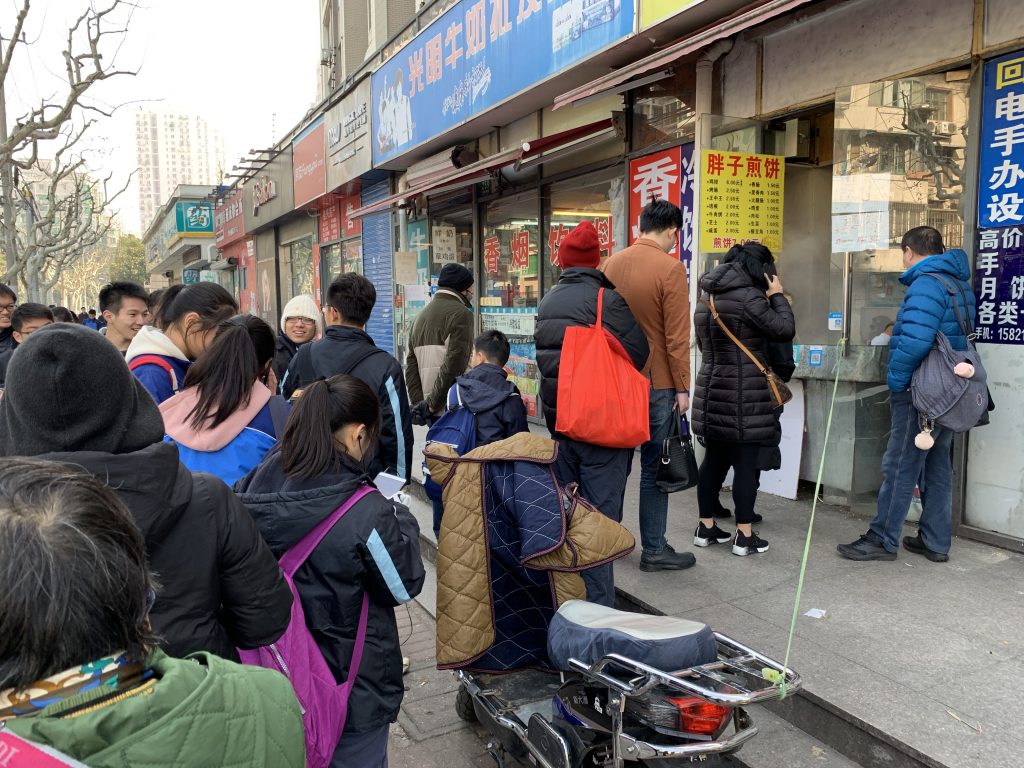 The griddle is roughly 2 feet in diameter, and the batter has a greater proportion of corn than usual, as evidenced by its light yellow tint (and the bag of cornmeal sitting next to the entrance). Working with this volume of batter can be exhausting, so rather than spreading on the dough with a spatula, the griddle is rotated by a motor that Fatty accelerates with a foot pedal.How a Jianbing is Made

Toppings range from the traditional (egg, luncheon meat sausages, and lettuce) to the unusual (salted egg, pickled green beans, and grilled sausage), to the… erm… fast food (bacon, cheese, and hamburger patty).
It takes around 2 minutes to make each jianbing. The jianbing that came out would give Chipotle burrito a run for their money. Fatty's should be named after the size of its product, not the owner (who admits he has lost some weight since he began, but then again, no one would go to a placed called Average Weight Guy's).
Our Order
The sign on the door says there is a limit of 3 jianbing per order, and most of the people in front of us were hitting their limit. So after waiting in line for 50 minutes, we also ordered 2 more than we had been planning on trying. We finished 1.5.
Traditional Jianbing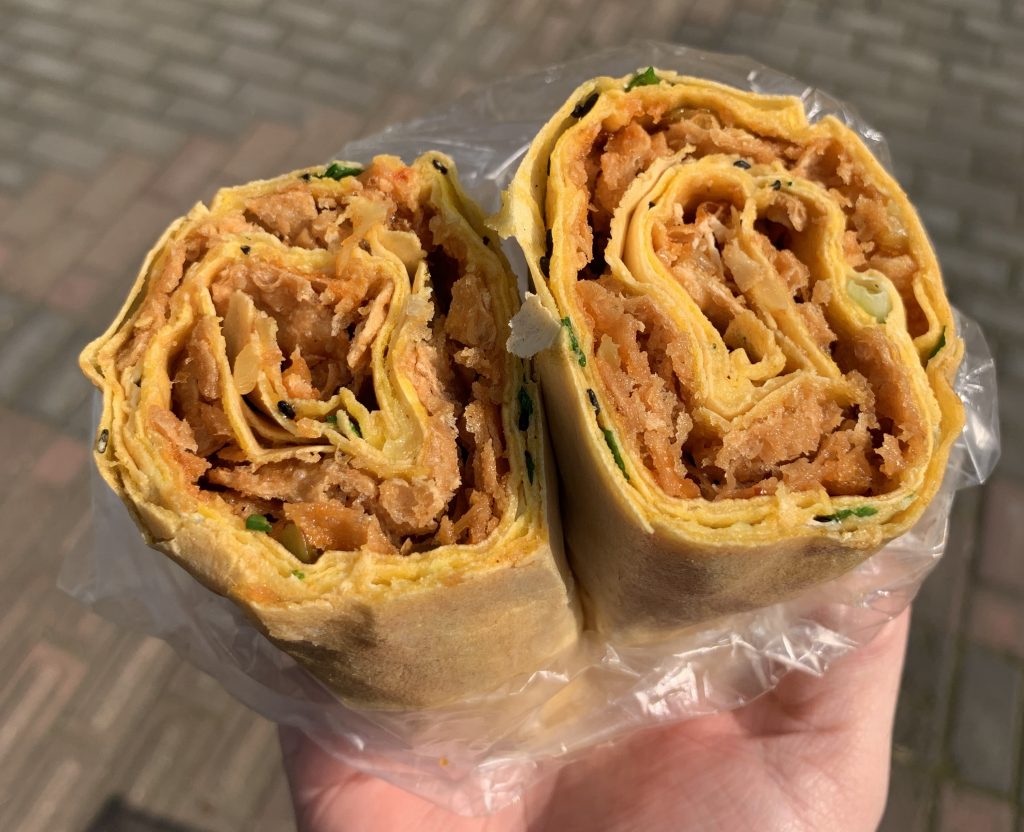 The traditional jianbing was delicious. It was crispy on the outside, surprisingly light considering how much batter was used, and had a nice balance of salt, acid, and sweetness.
While most people wouldn't travel 35 minutes for a jianbing, if you're a diehard jianbing fan, or are in the neighborhood (IKEA is nearby too….) on a day with nice weather, it's worth the wait. For the rest of us, let's hope that our local jianbing vendors begin offering bacon and cheese add-ons!
Location:
Fatty's Jianbing Shop 胖子煎饼店Address: 261 South Qinzhou Lu, next to China Middle School 钦州南路261号 (中国中学旁边)

Hours: 7:30 AM – 2:30 PM.

Tel: 15821760283