Last week we offered our top tips on how to eat vegetarian and/or vegan in Beijing, with key phrases and also some pitfalls to watch out for. Armed with these phrases and an appetite for adventure, visitors should feel reasonably confident of finding vegetarian and vegan dishes in many local Chinese eateries, but just to make sure we've rounded up our favorite vegetarian and vegan-friendly restaurants in Beijing. Here are a few sure-fire hits that will guarantee success.
King's Joy (京兆尹, jīng zhào yǐn)
This fine-dining vegetarian and vegan restaurant is sure to impress, with traditional Chinese and cosmopolitan East Asian dishes being elevated rather than compromised by the absence of meat. This restaurant hits the top of just about every restaurant ranking or food guide in Beijing for good reason. The preparation, plating, service and ambience are all first rate. Expect to pay around USD100 per person for the (very great) pleasure of eating here, although the culinarily curious will be sorely tempted to spend more.
Address: 2 Wudaoying Hutong (五道营胡同2号, 2 wǔ dào yíng hú tòng)
Immediately south of Yonghegong Lama Temple Subway Station, Exit G, on Subway lines 2 and 5.
Tel: 8404 9191
Hours: 7 days, 10am – 10pm

花开素食 (huā kāi sùshí)
A great place to find vegan versions of classic Chinese dishes, this restaurant serves everything from vegan "lamb" shish kababs to vegan "seafood" rice and "salmon". China's long Buddhist history has seen its chefs creating new forms of mock meat for hundreds of years. Visit Hua Kai to see just how close Chinese mock meat can be to the real thing.
Address: 144 Dongzhimen Inner Street. (东直门内大街144号, 144 Dōngzhímén Nèi Dàjiē)
West of Dongzhimen Subway Station Exit D, on the southeast corner of Dongzhimen Nei Dajie and Dongzhimen Nei Bei Xiao Jie. (东直门内大街与东内北小街交口东南角).
Tel: 64012228
Hours: 7 days, 11am – 9pm
Xian Lao Man 馅老满 (京素店), xiàn lǎo mǎn (jīng sù diàn)
This vegetarian branch of a classic Beijing favorite serves up vegetarian and vegan renditions of some of the capital's best-loved dishes. Visit this restaurant to get your fill of dumplings, noodles, and Beijing-style dishes (to find out more about Beijing cuisine, check out this article on the capital's Time-Honored restaurants.
Address:  316 Dongsi North Street (东四北大街316号, 316 Dōng sì běi dà jiē)
South of Zhangzizhonglu Subway Station Exit C on Line 5. (东四六条西口)
Tel: 84025779
Hours: 7 days, 9:30am – 10pm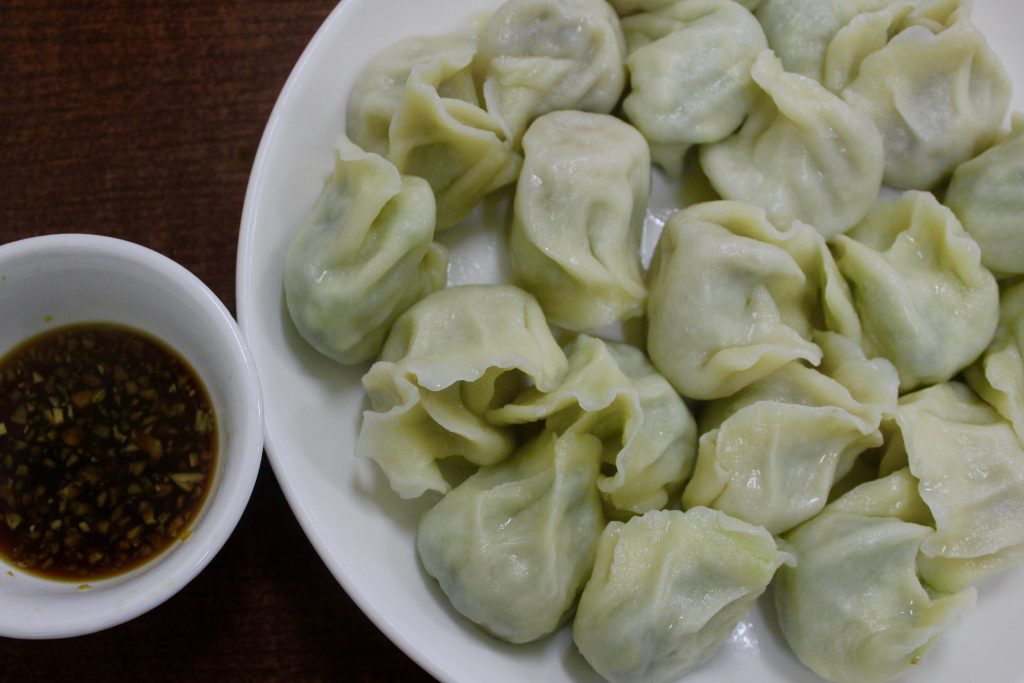 Tips for non-vegetarian restaurants:
Look out for restaurants that have picture menus so you can see what you're ordering
Choose vegetable dishes rather than asking staff to veganize meat dishes
If the staff seem unsure of your request, consider eating elsewhere. An involved discussion between staff is to be expected, however, signs of exasperation, indignation, or resignation (while rare) are to be avoided
Check your food before you eat. Mistakes happen
Stick to restaurants offering a wide variety of dishes. Small restaurants serving only one dish, such as noodle restaurants, may be unable to prepare their dish without animal products. Larger restaurants offer more scope for flexibility.
Keep a positive attitude. Vegan and vegetarian dining in Beijing's non-vegetarian restaurants depends on mutual good will.
Finding vegan and particularly vegetarian dishes in Beijing can be easy for those visiting the city, but don't be discouraged if you don't succeed at first.
If you don't have the time or the inclination to explore by yourself, get in contact with UnTour to find out more about vegetarian and vegan options on both our Hutong Breakfast and Old Beijing Dinner tours.