Learning Mandarin can be extremely difficult, especially in Shanghai where many locals speak English. Maybe you're planning your way to an HSK 6 certification or you just want to feel confident ordering your morning jianbing.  Whatever your goal, here's some hot tips to help you achieve your Mandarin language goals in Shanghai
Integrate Learning Into Your Social Media
There's so many great accounts on Instagram (but you gotta get that VPN first!), and we love Twisted Mandarin for their themed posts. Whether they're showing you the common thread between four different characters: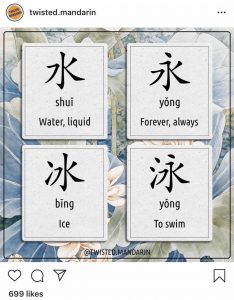 Or just breaking down our favorite fruits: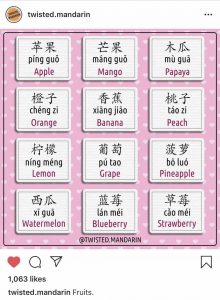 They make the visual learning of characters fun – and make your Instagram scroll a little more productive.
Looking for a food-focused lesson? Follow our official WeChat by scanning the QR code below and get a weekly Foodie Flashcard to learn the names of your fav dishes in both pinyin and characters. Just scan below and you'll be ready to get your 手抓饭 the next time you head to the Friday Muslim Market.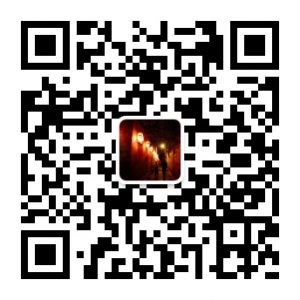 Also on WeChat is Official Account 故事FM. For more advanced learners of Chinese, they offer short but interesting articles as well as a radio show / podcast (under 故事FM in all your podcast apps) to keep you using your Mandarin reading and listening skills daily.
Take Some Classes – With Discounts!

Mandarin Community Chinese School is opening on June 1 and they are offering small group classes (no more than 3 per class!) catered to levels that offers insight not just into the language, but also the culture (hey hey – food!) of China. For newcomers, their "China Life Skills" classes can especially helpful, as they include things like understanding the visa system, learning how to open a bank account, or even learning about the process of opening your own business.
Go to their opening party on June 1 from 10am – 4pm at 2F, 212 West Beijing Road and get 30% off your classes! 北京西路212号2层。If you cannot make it to the party, you can also email mandarincommunityinfo@gmail.com before June 1 to claim the discount.
Web: https://mandarincommunity.net/
Download a (Free) App
Vocab & Grammar: Duolingo offers excellent Mandarin lessons for those who want to improve their basic vocab and grammar.
Reading: The Chairman's Bao offers real news translated by HSK level, so whether you're just starting out or are practically fluent, you can practice your reading skills while also learning about modern China. Win win!
Translation: Nothing beats Google Translate for a quick look, including camera functionality you can hover over words to translate (although this is done very literally and can offer amusing translations at times).
加油同学们!