Have you made plans for the upcoming 2020 October Holiday Golden Week? We've got extra dates added for the holiday week in Shanghai and Chengdu! Time to get some friends together for a food tour experience to remember. (If you'd prefer a private tour, just message us!)
2020 OCTOBER HOLIDAY & GOLDEN WEEK – SHANGHAI PUBLIC TOURS 
Mooncake Cooking Class (For Kids) – Sept 26 @ 10am, 1pm & 4pm
Shanghai Street Eats Breakfast – Oct 3 @ 9am
Shanghai Night Eats – Oct 4 @ 6pm
Hairy Crab Feast – Oct 5 @ 6:30pm
Beyond Bulgogi: Shanghai's Koreatown Tour – Oct 6 @ 3:30pm
Hands-On Dumpling Delights Tour – Oct 7 @ 10am
Shanghai Night Eats – Oct 8 @ 6pm
To make your booking, go to https://www.UnTourFoodTours.com/calendar.
Want to by WeChat or Alipay? That's not a problem! Just click pay by WeChat or Alipay on the check out page and you'll receive a QR code in your confirmation email.

Celebrate Mid-Autumn Festival with a mooncake cooking class for kids (aged 6-12)! We'll get hands-on by making Cantonese snowy mooncakes (冰皮月饼) with three different fillings.
The class will be taught in English with an UnTour Guide explaining the culture and history behind the mooncake and Mid-Autumn Festival, while a local chef shows the kiddos how to make the pastries from scratch.
Parents are not expected to take part in the cooking, but can relax while the kiddos get to work. Each kids' ticket will include a cup of coffee, tea or glass of bubbles as well as snacks for one parent, who can socialize around the island bar that is across the room from where the cooking class takes place. Additional beverages and snack tickets are available to purchase.
Kids will make enough mooncakes to take some home to give as gifts to teachers, ayis, or for the whole family to enjoy during the holiday.
Price: RMB 350 per kid. (All kids must be accompanied by a parent.)
Date: Sept 26 @ 10am, 1pm, or 4pm
Duration: 2 Hours
Inclusions: Mooncake Cooking Class • 3 Mooncake Fillings • English Language Cultural Instruction • Local Chef • Welcome Packet • Takeaway Box of Mooncakes for Kids • Coffee, Tea, or Bubbles for Accompanying Parent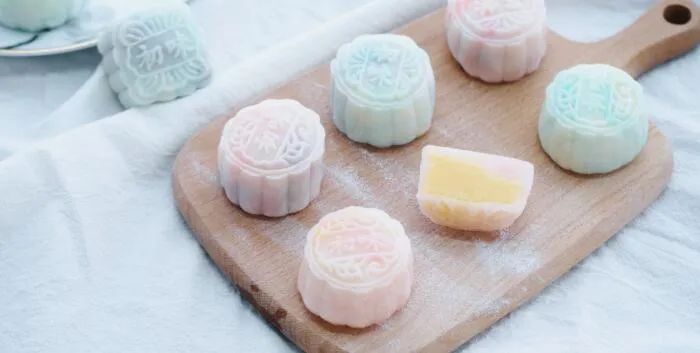 You'll discover the delicious reasons why China goes crazy for these crabs two months every year! We'll head to Old Town to sample xiefen xiaolongbao, whole hairy crabs, crab dishes, and local specialties. And we'll wash it all down with a huangjiu tasting platter, China's answer to brandy – which Traditional Chinese Medicine doctors and sommeliers both agree is the perfect pairing with hairy crab.
This seasonal specialty dinner has limited availability based on peak hairy crab season, and we're only running five public tours in 2020, so act fast to get your spots!
Price: RMB 595 per adult
Date: Oct 5 @ 6:30pm
Duration: 3 Hours
Inclusions: 6-7 Hairy Crab Dishes Sampled • Plus 5+ Non-Crab Dishes Sampled • Shaoxing Wine Tasting Flight • Full Hairy Crab • Chinese Beer, Soft Drinks & Bottled Water  • Welcome Packet • Awesome Bilingual Guide!
Go beyond bulgogi on the first ever food tour of Shanghai's Koreatown! As the sun sets, a local Korean guide will help transport you to the heart of Seoul. You'll weave your way through an extensive pocha (night market) maze, and dive into a range of restaurants, bars and shops. Explore some of the best-kept secrets and most enticing places to eat and drink in this K-Town enclave. Who needs a plane ticket when a world of delicious Korean food and culture is hidden just a few metro stops away?
Price: RMB 595 per adult.
Date: Oct 6 @ 3:30pm
Duration: 3 Hours
Inclusions:  12+ Tastings (not including Banchan!) • Curated Night Market Visit • Korean Beer, Liquor, Soft Drinks & Bottled Water • Welcome Packet • Awesome Bilingual Korean Tour Guide!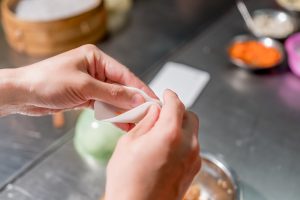 Are you obsessed with dumplings? On this food tour + cooking class, you'll get off the beaten path to sample regional varieties of dumplings, from streetside stalls frying up potstickers to mom-and-pop shops serving boiled jiaozi from China's frigid northeast. After eating your fill, you'll learn how to make a dim sum specialty from a Chinese chef.
While sampling fried, steamed and boiled dumplings (and a few extra surprises), you'll make your way through the leafy former French Concession to admire art deco architecture and see how the Shanghainese live. You'll make intricate Cantonese steamed shrimp dim sum, and leave with a detailed recipe so you can impress your friends and family with your newfound dumpling making skills after your return home.
Price: RMB 595 per adult.
Date: Oct 7 @ 10am
Duration: 3 Hours
Inclusions:   8-9 Tastings • Chinese Beer, Soft Drinks & Bottled Water • 1-Hour Cooking Class • Local Chef • Welcome Packet • Awesome Bilingual Tour Guide!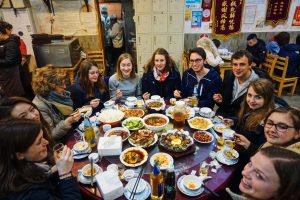 After meeting your friendly, bilingual guide at a central location, you'll get snacking immediately. In addition to the delicious tasting stops, you'll learn about Chengdu's development, and its strategic importance in China's history. As dusk approaches, you'll also eat your way through a market with other local shoppers, where you will learn about ingredients, food sources and the role that fast-disappearing markets play in the community and see first-hand how locals live. You'll end with a family-style meal over beer and local spirits with your newfound foodie friends.
Price: RMB 475 per adult.
Date: Oct 3-8 @ 4pm
Duration: 3 Hours
Inclusions:  10+ dishes with one seated tasting stop including a family-style or hot pot dinner, unlimited local beer & spirits, bilingual guide & local travel tips to help you make the most of your Chengdu and Sichuan province vacation
HOW TO BOOK: