We know lots of folks are already dream planning their next holiday once global travel restrictions have lifted, and we hope Shanghai is at the top of their list! If you are planning to eat your way through Shanghai, here's eight of our favorite Shanghainese dishes (plus a bonus dish if you come when it's in season). Don't see your fav Shanghainese dish on the list? Put it in the comments below!
1. Soup Dumplings (Xiaolongbao 小笼包)

Shanghai's most famous dish, these soup dumplings are famous the world over, but you'll never find better ones than in its birthplace. (Although best not actually go out to Guyi Garden or Nanxiang Mantou where they were allegedly invented as those two shops trade on their history rather than quality at this point.) We also try different xiaolongbao on our Night Eats, Hands-On Dumpling Delights, and Street Eats Breakfast tours!
Where to Get Soup Dumplings in Shanghai:
Lin Long Fang (麟笼坊): 10 Jianguo East Rd, near Zhaozhou Rd. 建国东路 10号招周璐.
2. Red-braised pork (Hongshao Rou -红烧肉)

This dish is more about the cooking technique than anything else, and you can red braised dishes throughout Shanghinese cuisine, including dishes like red-braised pork trotter, lamb shank or even eggplant – but the classic pork belly is a delicious start.
Where to Get Red-Braised Pork in Shanghai:
Old Jesse (老吉士): 41 Tianping Rd, near Huaihai Rd. 天平路41号近淮海路.
Want more info on the best dishes at Old Jesse? Here's our ordering guide: https://untourfoodtours.com/old-jesse-ordering-guide/ and also what to order if you're a vegetarian: https://untourfoodtours.com/old-jesse-a-vegetarian-ordering-guide/.
3. Scallion noodles (Congyouban mian 葱油拌面)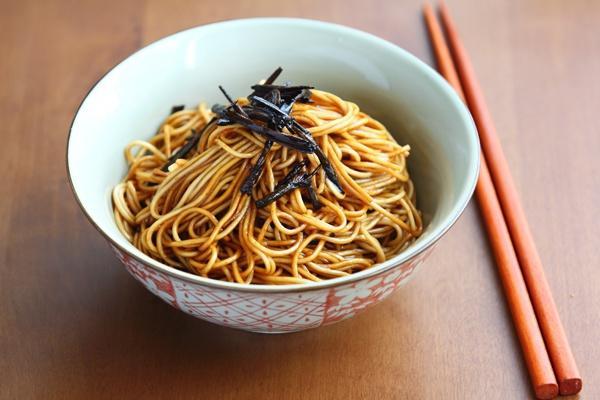 It doesn't get much simpler, or much tastier, than this classic noodle dish. Fresh noodles are boiled then drizzled in a scallion infused oil – and often topped with teeny, tiny shrimp.
Where to Get Scallion Noodles in Shanghai:
Yi Gui He (逸桂禾): 290 Ji'an Rd, near Zhaozhou Rd. 吉安路290号近招周璐. (Also available at Old Jesse & Lin Long Fang).
4. Lion's Head Meatballs (Shi Zi Tou 狮子头)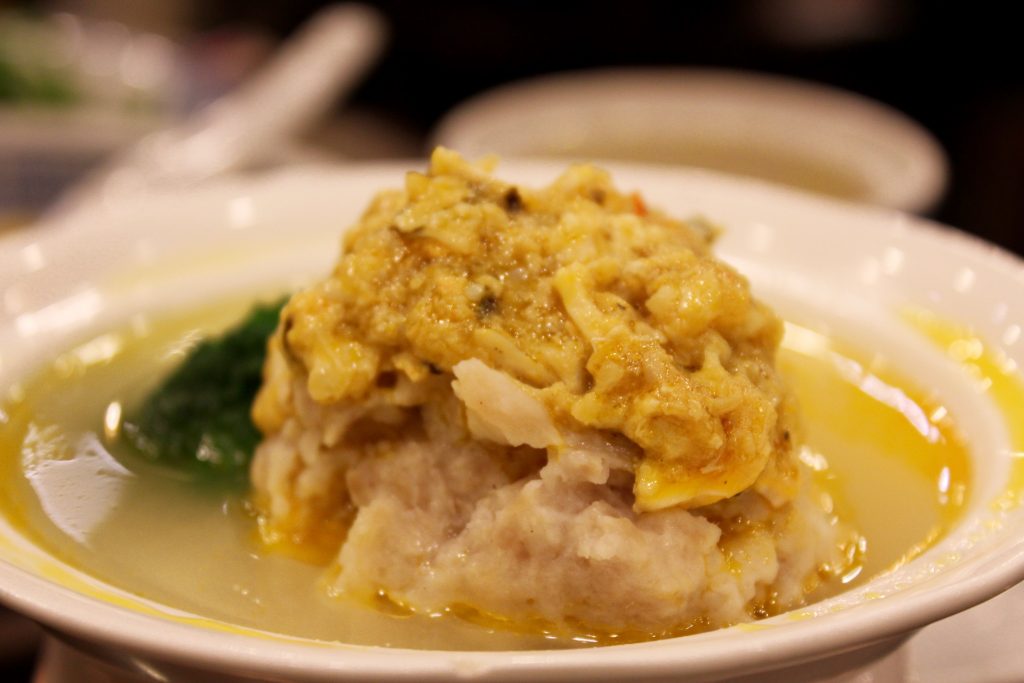 These meatballs come in two flavors: red-braised (like the pork above) or served in a light superior stock, usually with a bit of hairy crab.
Where to Get Lion's Head Meatballs:
Fu 1015 (福1015). 1015 Yuyuan Rd, near Jiangsu Rd. 愚园路1015号近江苏路.
5. Fried buns (Shengjianbao 生煎包)The heavier cousin of the xiaolongbao, these buns are also stuffed with pork and soup, but have a crunchy bottom thanks to a shallow fry in a wok.
Where to Get Fried Buns in Shanghai:
Da Hu Chun (大壶春): 89 Yunnan South Rd, near Jinling Rd. 云南南路89号近金陵路.
6. Duo of Pork Soup (Yan Du Xian 腌笃鲜)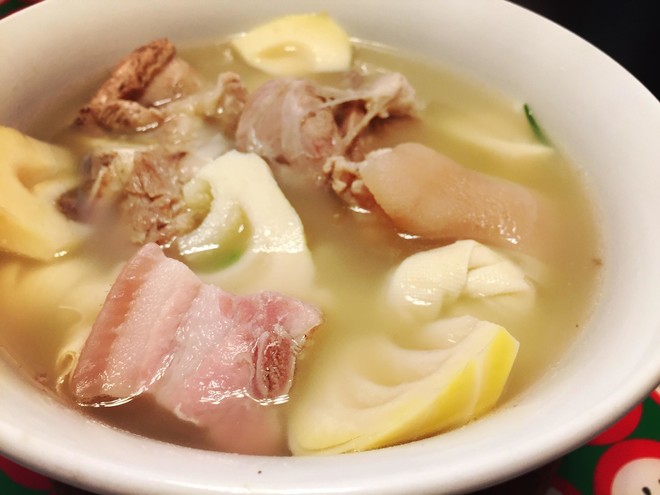 This classic Shanghainese soup combines both fresh and cured pork with winter bamboo shoots and tofu knots for a hearty dish that will fuel you through Shanghai's chilly winters.
Where to Get Pork Soup in Shanghai
Hai Jinzi (海金滋): 240 Jinxian Rd, near Shaanxi South Rd. 进贤路240号近陕西南路.
7. Smoked Fish (Xun Yu 熏鱼)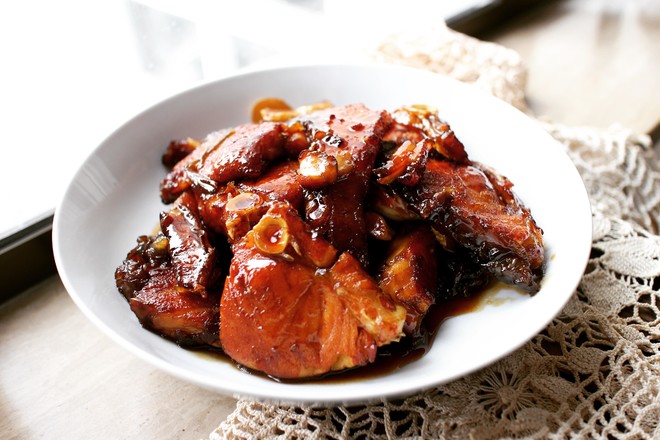 This misnomer of a dish doesn't actually smoke the fish (usually herring or carp), but rather deep-fries it. Served cold, the fish is soaked in a sweet-savory sauce that uses Shaoxing wine, two types of soy sauce, and tons of herbs and spices.
Where to Get Smoked Fish in Shanghai:
Fu 1088 (福1088): 375 Zhenning Rd, near Yuyuan Rd. 镇宁路375号近愚园路.
8. Fried Pork Cutlet (zha zhu pai 炸猪排)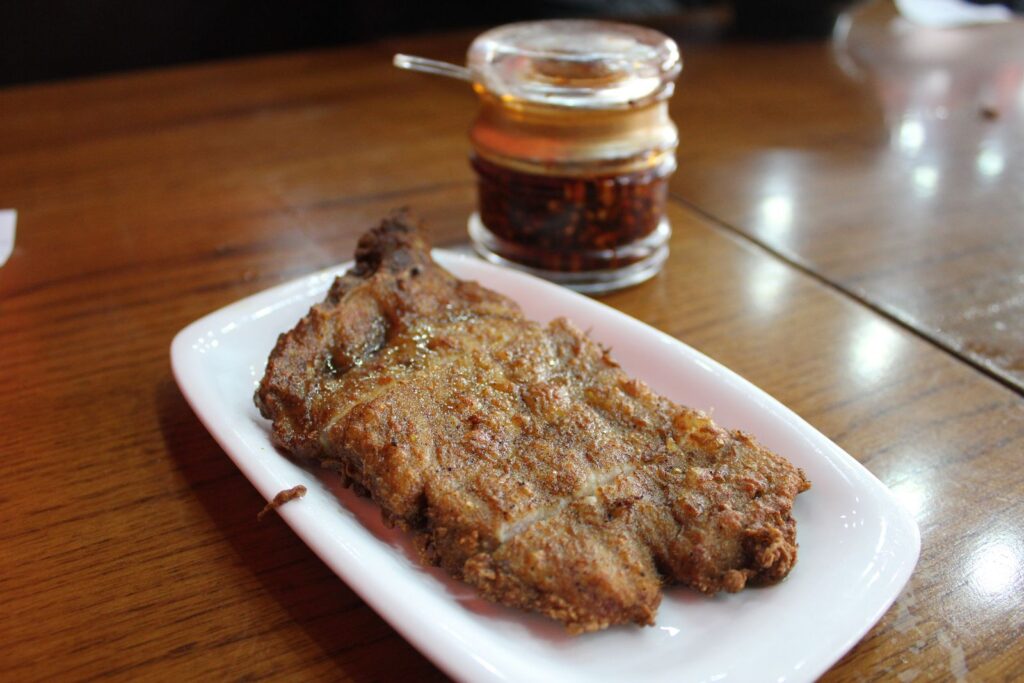 If this dish reminds you of schnitzel, you're on the right track. A leftover from the more colonial era of Shanghai, this dish was originally brought to the city by German and Austrian expats, but the locals made it their own dipping it in Shanghainese Worcestershire sauce (aka spicy soy sauce) made for the British!
Where to Get Fried Pork Cutlets in Shanghai:
Fu Chun (富春): 650 Yuyuan Rd, near Zhenning Rd. 愚园路650号近镇宁路.
**Bonus Dish: Hairy Crab**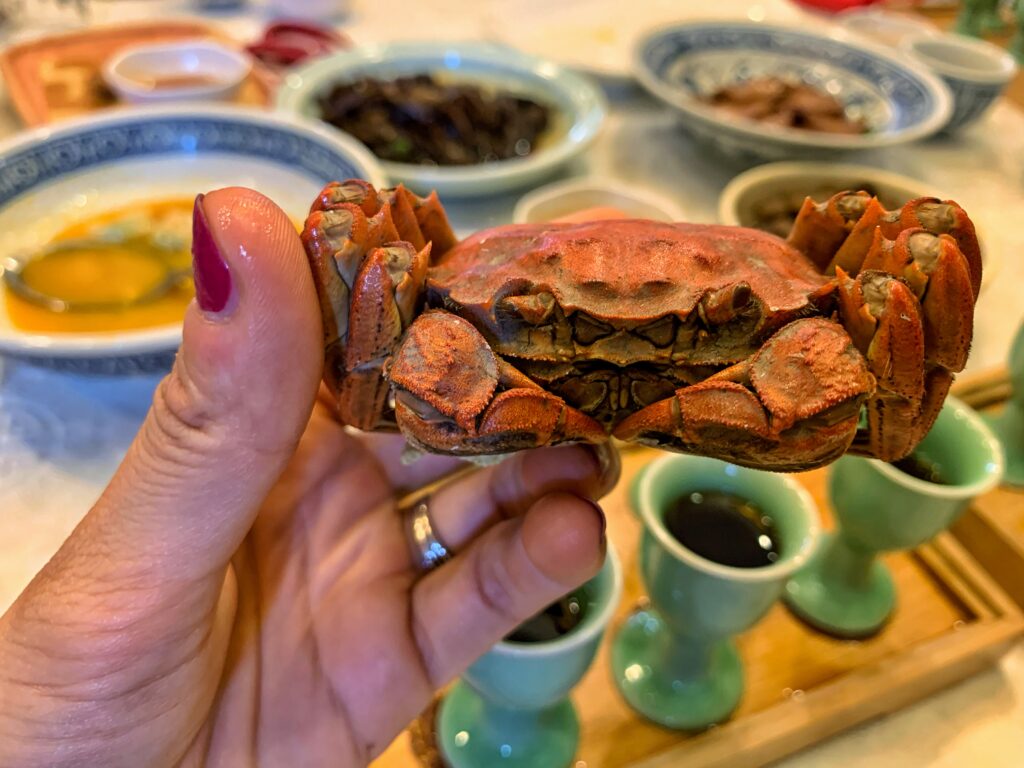 This seasonal crustacean is in season in the 9th and 10th lunar month every year (this year mid-Oct through mid-December), and is prized for its roe. You can get it tucked into soup dumplings at Lin Long Fang, crowning shizitou at Fu 1015, or served a top noodles at places like Cejerdary. Or you can join our Hairy Crab Feast where we sample multiple hairy crab dishes AND teach you how to crack into a crab and maximize the eating experience for the most meat possible! Our next Hairy Crab Feast is on Dec 13 and has only 8 seats left. To make your booking, go to https://untourfoodtours.com/calendar.